Annapurna base camp and Muktinath Trekking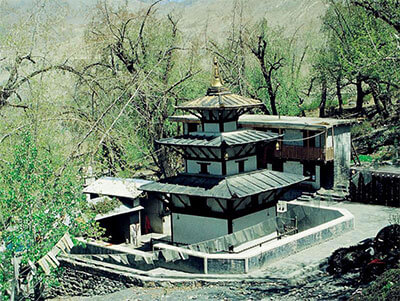 Few places in the world have such a splendid variety of natural beauty as the Annapurna region. It is a rare combination of long arrays of snow-capped peaks, crystal clear lakes, turbulent rivers with deep gorges, Tibetan monasteries, hot-springs, and picturesque villages inhabited by simple and friendly ethnic people.
Few places in the world have such a splendid variety of natural beauty as the Annapurna region. It is a rare combination of long arrays of snow-capped peaks, crystal clear lakes, turbulent rivers with deep gorges, Tibetan monasteries, hot-springs, and picturesque villages inhabited by simple and friendly ethnic people.

Day 01: Arrival and transfer to Hotel O/N at Hotel.

Day 02: Full day sight seeing tour to Pashupati temple /Bouddhanath stupa and Swoyambhu nath temple O/N at Hotel .

Day 03: Kathmandu- Pokhara
Drive to Pokhara (about 6 hrs). One gets to view good scenery along the drive. Lunch will be served at the Local restaurant on the way to Pokhara. Finally arrive at the most beautiful city of Mountains and lakes. Pokhara is Nepal's most beautiful natural valley, which is also the most popular tourist destination. The Annapurna, Machhapuchere (Fishtail) and uncountable Mountains always stand high welcoming every visitor with a smile. O/N at Hotel.

Day 04: Drive to Phedi, and trek to Tolka (1810m)
After breakfast We start our trek by driving a short distance to Phedi. We climb steeply to the ridge at Dhampus at 1750m. passing through a rhododendron forest we move forward to the village of Pothana, from here we reach to the small settlement of Deurali. Making a steep descent on forested slopes and then into a side canyon of the Modi Khola, passing through the settlement of Bheri Kharka, we then climb gently and emerge into the main Modi Khola valley, and finally reach to Tolka at 1810m. O/n Tolka

Day 05: Tolka - Chhromrong (2210m)
After breakfast we start moving ahead from Tolka. We from Tolka move to Landruk, a Gurung village. Ten minutes below the Landruk village, the trail to the sanctuary leads away to the right which shows the sign pointing the way north to Chhomrong. We cross the river at Shiuli at 1340m before climbing the Jhinu Danda at 1750m. We reach Taglung at 2180m. After a short distance from Taglung, the trail rounds a bend and enters the upper part of Chhomrong, a gurung village, where we spend the night. Chhromrong is a large village that is spread along a huge stone staircase, which drops to the Chhromrong Khola. O/n Chhoromrong

Day 06: Chhromrong - Bamboo Lodge (2340m)
After Breakfast, Leaving Chhomrong the trail descends to cross the Chhomrong Khola on a suspension bridge, then climbs high above the Modi Khola on it's west bank. The trail then ascends through the villages of Tilche and Sinuwa and finally reaches Kuldi at 2350m. From here the trail descends a long, steep stone staircase into bamboo and rhododendron forests and eventually we reach the small settlement of Bamboo Lodge at 2340m.O/n Bamboo Lodge

Day 07: Bamboo Lodge - Himalayan Hotel (2900m)
After Breakfast, The trail continues along the west bank of the Modi Khola valley through dense bamboo forest, occasionally dropping to cross tributary streams, but ascending continuously, and reaches the settlement of Doban at 2630m where there are several good lodges. The trail then continues high above the river to our resting place for the night, the small settlement of tea-houses known as Himalayan Hotel at 2900m.O/n Himalayan Hotel.

Day 08: Himalayan Hotel - Machhapuchhre Base Camp (3720m)
After Breakfast, an hour's walk to Hinko Cave at 3160m, and a further half an hour to Deurali at 3230m. Above Deurali the valley widens and becomes less steep. Reaching Deurali brings a feeling to us that we are near to our destination. We can now see the 'gates' to the Sanctuary. The trail continues into the Sanctuary to meet the Modi Khola and follows the river to Bagar, a meadow at 3310m. From Bagar we continue to trek upwards and reach the area known as Machhapuchhre Base Camp at 3720m. This is a collection of tea-houses spread over a large area. From here the mountain views are fantastic and include Annapurna (8091m), Annapurna III (7555m), Gangapurna (7454m) and Machhapuchhre. O/n Machhapuchhre Base Camp
Day 09: Machhapuchhre Base Camp - Annapurna Base Camp (4095m)

After Breakfast, we start early and make the 2 hours trek to Annapurna Base Camp at 4095m, crossing four hotels on a knoll at 4130m. The trail continues upwards, on a good path, to the south of the moraine This is
the highlight of the trip and affords us marvelous close up views of the mountains that make up this incredible natural amphitheatre. On arrival at ABC we get a superb view of the near vertical south face of Annapurna that towers above the Sanctuary to the north-west, which was climbed in 1970 by Don Whillans and Dougal Haston on an expedition led by Chris Bonington. We arrive at ABC mid-morning which allows ample time to explore the surrounding area and take some stunning photographs. O/n ABC

Day 10: Annapurna Base Camp – Doban
After Breakfast, from the Sanctuary we initially retrace our steps, and descend to Deurali, through Himalayan Hotel, and eventually to Doban where we spend the night. We cover the ground a lot quicker on the way down taking advantage of our acclimatization and the reducing altitude. O/n Doban .

Day 11: Doban – Chhromrong
After Breakfast, From Doban we continue back down the trail, through Bamboo Lodge, and to Chhromrong where we spend the night. This is a short day and allows us to spend some time relaxing in this fascinating village which has some of the best mountain views in the world.O/n Chhromrong.

Day 12: Chhromrong - Tadapani
After breakfast Trekking to Tadapani O/N at Tadapani

Day 13 :Trek to Ghorepani

After breakfast we begin our journey with steep climb to Banthanti and Deuraliu. Then the trail continues to ascend more gently, through fine forests of oak & rhododendron After an hour walk brings you to Ghorepani at 2775m.
O/N at Guest House.

Day 14 : Ghorepani to Tatopani

This day early in the morning at 5 o'clock, we begin the trek for hiking to Poon Hill. It takes an hour to climb from here to Poon Hill, offering you one of the best Himalayan viewpoints in Nepal from where spectacular Himalayan ranges with amazing sunrise view can be seen very closely, return to Ghorepani, take breakfast, continue our journey to Tatopani through wide and hilly cultivated land and local settlements. Natural Hot spring in Tatopani by the Kaligandaki river bank beside your lodge.
O/N at Guest House.

Day 15 :Tatopani to Kalopani

Today, the trail continues up the Kali Gandaki gorge. This is considered to be the deepest in the world which is situated as it is between the two 8000m peaks of Annapurna and Dhaulagiri. From there, trail rises gently up to Dana at 1400m, & on to Rpshe water fall which is situated in the deepest valley in the world. The trail continues to ascend shortly before arriving at Kalopani at an elevation of 2560m, where we obtain superb views of the Nilgiri peaks to the east.
O/N at Guest House.

Day 16: Marpha

This day we start trail continues on a short distance to the interesting village of Khobang with its narrow alleyways, a Thakali settlements which is valid only in this part of this valley in Nepal
After Tukuche, the trail continues along the Kali Gandaki. As we pass through the gorge, the terrain becomes much more barren & the breeze increases. We continue towards Marpha at 2665m passing a Tibetan refuge settlement & then a horticulture research station. Marpha is a large Thakali village with many excellent teahouses, however it still retains the typical architectural features of narrow alleyways, flat roofs, & whitewashed buildings. There we will visit a superb Nyingmapa Buddhist Gompa.
O/N at Guest House.

Day 17 : Marpha to Kagbeni
From Marpha, we climb along the side of the valley to Jomsom at 2713m. Jomsom is a large, bustling settlement, & it is the administrative centre of the region that contains the airport, army camp, & numerous hotels, shops, banks & government offices.
On the way, we cross the river to the eastern bank, we then walk onwards to Eklai Bhatti at 2730m. From here we catch a direct route to Muktinath that ascends the hill behind the village, however we follow the trail along the river to Kagbeni at 2810m which is situated at the junction of the Jhong Khola & the Kali Gandaki, the northernmost village that can be visited without a permit to continue on to Mustang. This village fascinates rich Tibetan cultures & their unique hospitality, influences us much.
O/N at Guest House.

Day 18 : Kagbeni to Muktinath

We make a steep climb up the Jhong Khola valley leaving Kagbeni, we then join the direct trail to Muktinath just below Khingar at 3200m. From here trail continues high above the Jhong Khola to the imposing village of Jharkot at 3500m which is well worth exploring. We, therefore, take a break here for lunch before continuing on to Muktinath.
As we leave Jharkot, the trail climbs up to our ultimate destination of Muktinath at 3800m. We initially visit Ranipauwa, there are many teahouses and shops. Our overnight stay will be here. Further 10 minutes walks up the hill, we will be rewarded with the actual religious site of Muktinath & this area is kept free of hotels and camping sites. Muktinath is a pilgrimage center for Buddhists and Hindus. There we can see Tibetan traders as well as sadhus from the far south of India. There is shrines in a grove of trees including a Buddhists gompa & the Vishnu temple of Jwalamai. An old temple nearby shelters a spring and natural gas jets that provide Muktinath's famous eternal flame. It's the earth-water - fire combination that accounts for Muktinath's great religious significance.O/N at Guest House.

Day 19 : Trek back to Jomsom via Luprak which is located beside the main trail, a beautiful village in a small valley, visit of a cave monastery belongs to Bon Bhuddism. O/N at Guest House.

Day 20 : Fly back to Pokhara (about 20 minutes short, but scenic flight). O/N at Hotel.

Day 21 : Fly or drive to Kathmandu and transfer to Hotel

Day 22: Departure transfer to airport.




Cost Includes:
# All necessary transportation by private vehicle.
# Tourist Guide for sightseeing spot in Kathmandu and Pokhara.
# Meals three times a day ( Breakfast / Lunch & Dinner ) During Siklis Trekking
# Annapurna Conservation fee and TIMS Card
# English Speaking Guide and Porter/s
# All Accommodation on twin sharing room on BB basis in Kathmandu Pokhara.
# Accommodation in the Lodges or home stay in normal standard during trekking.
# Insurance of Guide and Porter/s covers personal accident and medicine..
Cost does not Includes :
# Expenses of Personal nature.
# All sorts of Drinking [ Water / Beer / Tea Coffee ]
# Meals in Kathmandu and Pokhara
# Domestic Air fare
# Others not mentioned in inclusion above.
# Tips for Trekking & other employed staffs which is not mandatory but expected.