Chulu West Peak Climbing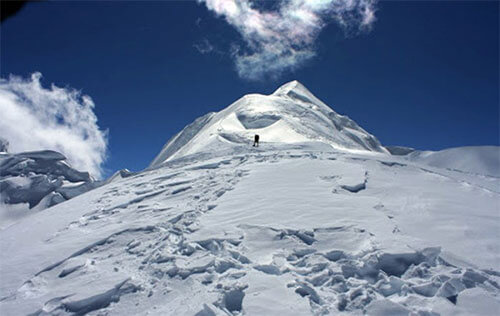 Climbing Chulu West peak with the Classical Annapurna circuit fulfills the dream of every amateur climber who wishes to have the Himalayan summit's thrilling experience of lifetime with the great views of Himalayas and Tibet just next to them. Chulu peak climbing in Nepal is one of the challenging among the trekking peaks in Nepal that requires the greater commitment and previous trekking or climbing experience. You will be fully briefed and instructed by our experienced climbing guide on the techniques and use of crampons, ice axe, rope etc to give you the required skills and confidence to ensure you have every possible chance to summit the peak.

North-West Ridge: Go beyond the hut following the yak pastures and walk up a ridge which leads into a hidden valley where it is possible to find a good site for base camp. From this camp, ascend steep slopes (4,900/16,076 feet), on a subsidiary ridge that leads down from the main ridge. To the ascend snow slope for 200 meters to the base of a band of rock at an altitude of 5,100 meters and the site for a possible high camp. Climb the rock band with some difficulty to the north-west shoulder of Chulu west 5450 meters/17,880 feets, where another camp can be established or alter-native a camp can be placed on a snow plateau above 5,530 meters/18,143 feets. On the first ascent and several subsequent ascents rope was fixed on the rock band. From the plateau continue up the progressively narrowing ridge to the summit 6,250 meters /20,505 feets. Descend by the some route.



Day 01: Arrival in Kathmandu airport (1350m) and Hotel transfer; O/N at Hotel.
Day 02: After breakfast sightseeing tour in world heritage sights in Kathamdu (Durbar square, Swoyambhunath, Bouddhanath and Pashupatinathuide); O/N at Hotel
Day 03: Drive Kathmandu to Jagat (1100m):
After breakfast, we leave Kathmandu at around 7 am and nearly after 8-10 hours' drive we reach Jagat via Besishahar. Enroute, we see more of countryside of Nepal that offers greeneries, rivers, villages, farms and beautiful mountain sceneries. However, the condition of road is not equally fine in all portion of our drive today. The road up to Besishahar is coal-tarred road, whereas after Besishahar the road is dusty and coarse though we can easily overlook it as we watch the outstanding sceneries through the windowpane. Overnight stay at Jagat Guesthouse.
Day 04: Jagat to Dharapani (1,960m):
After breakfast, we start our trek, We enter Manang district after crossing a large bridge near Tal. The trail continues through barley, rice, potato fields and pine forests. After passing the village of Kodo we will be at Dharapani, one of the big villages in the Manang valley. Overnight at Dharapani. Guest House.
Day 05: Dharapani to Chame (2,710m):
After breakfast , we walk a few steep forested ridges along with several landslides on route on the west. On the way to Chame, we encounter with the most sensational views of Lamjung Himal, Annapurna II, and Annapurna IV (7,525m/24,688ft). Small hot springs add relief on our long day hard trek. Overnight at Chame. Guest House.
Day 06: Chame to Pisang [3,300m/10824ft]:
After breakfast A steep and narrow path through a very dense forest will bring us to the dramatic curved rock face, rising 1500m from the river. As the trail opens up we get surrounded by majestic Himalayan Peaks. We find ourselves in U-shaped valley of Manang hanging between two giant snow peaks. After walking through these wonderful sites we reach at Pisang. Overnight at Lower Pisang. Overnight at Guest House.
Day 07: Pisang to Manang (3,500m):
There are two routes that we can follow today. If taken upper route, the route through Upper Pisang via Geru, the sceneries will be outstanding. We feel like we are horizontally in front of the majestic peaks. The panoramic views of the mountain peaks, such as Annapurna, Pisang peak, and several others will definitely appeal us. We notice a contrast with the landscape and vegetation from today onwards. The cold and dry climate create a much harsher environment. We pay our memorable visit to Barge monastery, the largest in the entire district of Manang. Overnight in Manang at Guest House.
Day 08: Manang acclimatization day
Today is the scheduled acclimatization day. It is not recommended to stay idle but a short walk to higher altitude will be better to get acclimatized with the altitude. Manang is a good place to do that as the next two days will be very challenging and tiring trek for us with rapid gain in altitude. We should never be confident with the altitude and always be cautious. Bhojo Gompa or Gangapurna Lake is worth visiting sites from acclimatization point of view. We make an easy excursion to a little distance away to a village called Vraga, a small old village with a monastery. At this juncture, we also make our short visit to the Himalayan Rescue Association where we can get some ideas about Mountain Sickness. Overnight at Manang Guest House.
Day 09: Manang to Leder (4200m):
After breakfast, we continue through alpine landscapes with high altitude vegetation and forests. A gradual ascent takes us to Yak Kharka and then to our today's camp. Our today's camp area is most used as the alpine pasture by the local people.
Day 10: Leder to Chulu West Base Camp (4900m):
After breakfast, we continue our trekking from Leder to Chulu West Base Camp. From the Base Camp, we can enjoy the views of Annapurna Himalayas. We may also like to discover the surrounding areas. At this point, we will set up our camp for overnight stay.
Day 11: Chulu West Bbase Camp to Camp I (5100m):
From the Chulu Base Camp, we continue hiking towards Camp I. The route is not that technical. But it would be better to remember that we are climbing on high altitudes. At this juncture we relish the magnificent views of Annapurna and Dhaulagiri mountains including Manaslu, Gangapurna and Lamjung Himal. Overnight at Camp.
Day 12: Rest & Acclimatization at Camp I
Today will be the rest and acclimatization day at Camp I. While we rest at camp I, the climbing leaders and other staffs make way to Camp II and supply the equipments for the camp. Later, they return back to Camp I. We may rest and if interested walk around Camp I.
Day 13: Camp I to Camp II (5,530m):
After breakfast, we leave camp I and continue climbing the rock band to Camp II. The route is not that technical but we may have to use ropes, crampon, and ice-axe. We set up Camp II at 5,530m /18,143ft. Some visitors also attempt the summit directly from Camp I. However, since the climb is relatively straightforward from the Camp II until the summit, we make an overnight stay at Camp II for proper rest and acclimatization.
Day 14: Summit Chulu West (6419m) and back to Camp I:
It is our summit day, and it is going to be long day. Therefore, we would wake up much earlier today. Each moment we have to work hard through the icy high-altitude trail but the outstanding high Himalayan scenes are such tempting that our eyes love to watch more over the horizon than on our trail. After summiting, we return back to Camp I.
Day 15: Camp I to Leder:
From Camp I, our return path descends all the way to Leder. While descending, we enjoy the panoramic views of the Annapurnas and other peaks. We make our overnight stay at Leder and celebrate the summiting of Chulu West Peak. Overnight at Camp.
Day 16: Leder to Thorong Phedi (4450m):
Today, we clean up the base camp and head for Thorong Phedi. It is going to be mostly an easy way walk downhill. However, we do not forget that we are still in high altitude area. Overnight at Lodge.

Day 17: Thorong Phedi - Thorong Pass (5416m) - Muktinath (3,800m)-Jomsom (2,715m):
At the beginning, we cross the famous high pass of Thorong La today. An early start is important to complete the mission. We reach Muktinath, an important pilgrimage site for both Hindus and Buddhist after crossing the pass. Muktinath hosts a Vishnu temple and a monastery nearby demonstrating the religions harmony in Nepal. For the Hindus, the region is a "Muktikhsetra" or the region of liberation or salvation. There are water spouts channeled for the stream running above the temple. We enjoy the tremendous stunning views of Dhaulagiri peak from Muktinath. From Muktinath, we continue back to Jomsom by local bus.
Day 18: Jomsom to Pokhara by flight
After breakfast, we fly to Pokhara, a 30-min dramatic flight to Pokhara between gorge of the two huge mountains, Annapurna and Dhaulagiri. Upon arrival at Pokhara airport, our guide will escort us to the lakeside hotel. We utilize the rest afternoon for discovering the beautiful Pokhara valley leisurely. While walking along the bank of Fewa Lake one of the biggest lake of Nepal, we cannot stop admiring the state of Fish Tail Mountain reflecting in the lake. We can also take a boat around the Fewa Lake or just can take an hours' walk to the World Peace Pagoda. O/N at Hotel.
Day 19: Drive back to Kathmandu:
After breakfast, we make a 200 kilometers drive back to Kathmandu from Pokhara. It will be better to hold on the left pane of the vehicle to enjoy the scenery through the route. Upon arrival in Kathmandu, we will be escorted to our hotel. There is nothing to do but trade emails with travel companions and organize the photos. We can spend the evening either leisurely or perhaps catch up on some last minute shopping. Finally, we celebrate dinner together with Himalayan Glacier's trekking staffs.
Day 20: After Breakfast transfer to the airport for final departure or alternatively join other activities.
Services Included:

# All ground transfers, airport pickup / drop by private vehicle.
# Hotel in Kathmandu (twin sharing, including breakfast )
# Guided sightseeing in Kathmandu including all applicable entrance fees.
# All domestic airfares (Jomsom – Pokhara).
# Fully organized capming trek (including world class equipments, tents, mattresses and etc).
# Everyday three times meals during trekking prepared by our kitchen crew.
# National Park / Conservation Area Permit Fees.
# Guide, porters and their daily wages, insurance with all necessary arrangements.
# Accommodation in Pokhara (including breakfast, )
# Chulu west Peak Climbing Permit and all other necessary fees.

Services Excluded:

# All International Airfares / Airport Taxes.
# Expenses of personal nature such as bar bill, laundry bill, telephone bill, tips and etc.
# Personal medical and travel insurance.
# Helicopter Rescue & Evacuation - If needed.
# Trekking boot,
# Climbing gloves,
# Main rope,
# Down Sleeping Bag,
# Down Jacket, Gore-Tex jacket,
# Trouser,
# Climbing boots,
# ICE-axe with Ice hammer,
# Rucksack, Crampon,
# Stick, Harness,
# Get up (Boot clover),
# Snow Glass, ICE Screws, snow Shavel,
# Carbine Lock & unlock,
# Head Lights,
# Wind Proof Jacket & trouser, Down Trouser, Wind Proof Trouser,
# Water Bottle,
# Woolen Gloves, Bag Cover,
# Wind mask for climbing,
# Socks for climbing,
# Eight figure, Knife & Personal Medicine,