Everest Base Camp Trek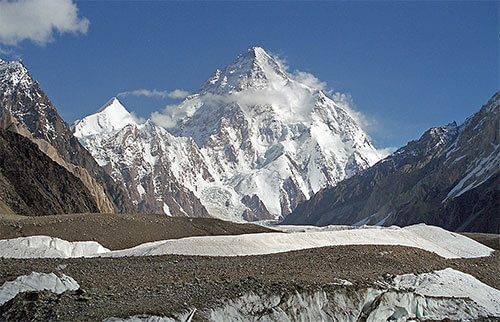 With eight of the worlds ten highest peaks, Nepal is loaded with spectacular mountains vistas. Everest trek is justifiably famous, not only for its proximity to the world's highest mountain ( 8848m ) but also for its friendly Sherpa people, picturesque villages, great variety of cultures and traditions, colourful festivals and monasteries. The flora and fauna are other ornaments of the Sagarmatha National Park. The story of the yeti is still a mystery to the world from the Kahumbu region.


Everest base camp Treks 19 Nights 20 Days !!!!
Day 01. Arrive in Kathmandu International Airport. Transfer to the hotel and stay overnight at hotel in Kathmandu.
Day 02. City sightseeing in and around Kathmandu valley (Kathmandu, Bhaktapur & Patan). Stay overnight at hotel in Kathmandu.

Day 03. Fly from Kathmandu to Lukla (2886m.) which takes about 40 minutes. Lukla is a small town with an airport, a few tea shops, lodges, hotels and general stores. Trek from Lukla to Phakding (2640 m.) which takes approximately three hours. You begin today's trek from Lukla following a gentle climb up the mountainside on the left bank of the Dudh Koshi river. Nupla (5885m) can be seen in the distance on the opposite bank, and is a peak atop the Kongde Ridge. You descend a mountainside path that merges into your route to Everest, with views to a valley to your right and at its far end, Kusum Kang (6367m.) The Dudh Kosi approaches as you pass a Mani wall and arrive at Ghat teahouse. You continue along a small path with many climbs and descents following the left bank of Dudh Koshi to Phakding. Stay overnight at a lodge in Phakding.

Day 04. Trek from Phakding to Namche Bazaar (3440 m.) It takes about four and a half hours. This day you trek and cross the river on high suspension bridges. Beyond Monjo (2800m.) is the entrance to the Sagarmatha National Park which was set up in order to protect and preserve this fragile mountain environment. You then ascend quite steeply to Namche and along the way, if the weather is clear, catch the first glimpse of Mt Everest in the distance. You can also enjoy the view of Mt. Kusum Kangaru, Thamserku, Konde-Ri and Tawache peak. You are also able to visit some of the village monasteries on the way trekking to Namche Bazaar (3440 m.). Namche is the main trading village in the Khumbu region and holds a busy Saturday market. Also, it is a meeting place for the Hindu traders from the lowlands and the Tibetan yak caravans that have reached there by crossing the glaciated Nangpa La. Stay overnight at a lodge in Namche Bazzar.

Day 05. Rest at Namche Bazaar for acclimatization and excursion around the places. Namche is tucked away between two ridges amidst the giant peaks of the Khumbu and has an abundance of lodges, tea shops and souvenir shops as well as a magnificent outlook. It is an ideal place to spend a rest day for acclimatization to the high altitude before heading off towards Tyangboche. For acclimatization you walk up to Khunde Hospital which was set up by Sir Edmund Hillary, or a one hour walk up to Syangboche (3800m.) where Everest View Hotel is situated offering outstanding views of Everest, Nuptse, Lhotse, Ama Dablam, Thamserku and Kusum Kangaru. There are also good views from the National Park Centre and Museum just above the town. Stay overnight at lodge in Namche Bazzar.

Day 06. Trek from Namche Bazaar to Tyangboche (3867 m.) It takes almost five hours. From Namche, the trail contours around the side of the valley, high above the Dudh Koshi. Now you can experience your first really good views of the great peaks of the Khumbu including Mt Everest, Nuptse, Lhotse, Ama Dablam, Thamserku and Kusum Kangaru. Passing by several villages and numerous tea shops, the trail descends steeply to a bridge over the river Dudh Koshi at Phunki Tenga (3250m.).The village has an excellent place for lunch and you can take a short rest before making the steep climb to Tyangboche. Although exhausting due to the zigzag path, the trek has numerous attractions like rhododendron bushes, beautiful birds chirping and superb mountain scenery making your trek exciting. Tyangboche is famous for its legendary monastery, the largest in the Khumbu region. Stay overnight at lodge in Tyangboche.

Day 07. Trek from Tyangboche to Dingboche (4260m.) It takes about five hours. You gradually descend through a forest, cross the Imja Khola and climb steadily up to the village of Pangboche. This is directly opposite to Ama Dablam [6,856 m], and has exceptional views of the mountain, with the Gompa, mani walls and scattered pine trees in the foreground. As you gradually ascend, you find thick forests. This part of the trail is full of thorny and juniper bushes. A further two and a half hour's walk brings you to Dingboche. Here you can see Sherpa people working hard in the agricultural farms. Stay overnight at lodge in Dingboche.

Day 08. Rest at Dingboche for acclimatization and excursion in and around the places. Here you can steeply climb up to Nakartsang Gompa for the rare outstanding view of Mount Makalu (8463m.) along with Lhotse, Island Peak, Baruntse, Ama Dablam and Thamserku. The another option provided is a small side trip to Chhukung which takes about two and a half hours to go up and one and a half hours to come back to Dingboche. There are lodges which can serve you some delicious food items. Stay overnight at lodge.

Day 09. Trek from Dingboche(4350m.) to Chhukung (4730m.) It takes about four hours. The trail gradually ascends up to the Chhukung. On the way, you can see summer huts made especially for keeping livestock during the summer time. Along with this, you also enjoy some spectacular mountain views in and around the valley. Stay overnight at lodge in Chhukung.

Day 10. Trek from Chhukung to Chhukung Ri (5546m.) to Lobuche (4930m.) via Dongla (4620m.) takes almost six hours. From Chhukung Ri you can have a view of Mt. Nuptse (7896m.), Mt.Lhotse (8511m.), Baruntse peak (6800m.),Ama Dablam peak(6856m.),Thamserku peak (6608m.), Konde Ri or peak(6187m.), Tawoche peak(6542m.), Cholotse peak (6441m.) and more. Now, you begin your trek to Lobuche via Dongla which offers you panoramic views of the mountains along the way. The teahouse at Dongla is a good spot to have lunch, before zigzagging up through the boulders of the glacier's terminal moraine. At the top of this climb there are many stone caves built as memorials to the many Sherpas who have died while climbing Mt Everest. The path then climbs gently along the glacier, to eventually reach the cluster of houses at Lobuche. Stay overnight at lodge in Lobuche.

Day 11. Trek from Lobuche to Everest Base Camp (5486m.) via Gorakshep (5180m.) which takes about seven hours. Trek up the valley following the rocky moraine path, view icy glacial ponds and icebergs below the Khumbu glacier. After the last rocky moraine dunes, a short downhill walk brings you to Gorakshep, the flat field below Kala Patthar (5545m) and Mt. Pumori (7145m.). Gorakshep is the location of the original Everest Base Camp with the new camp being further up the valley. Now the trail winds through a rocky path and the Khumbu glacier. The views of Nuptse, Lho-La and Khumbutse appear before you. Sometimes an avalanche can be seen on the way. After relishing in the moment of reaching your destination and photographing your achievement, you retrace your steps back to Gorakshep passing through the Khumbu glacier with magnificent views of Lobuche, Cholatse, Mt. Pumori and Tabuche. Stay over night at a tea house lodge.

Day 12. Trek from Gorakshep to Kala Patthar (5545m.) and back to Pheriche (4243m.) takes about six hours. You accomplish an early morning climb to Kala Patthar (5545m.) to enjoy a view of the sunrise. From Kala Patthar, you can have a panoramic view of Mt. Everest and many other mountain peaks like Mt. Pumori, Mt. Lingtren, Mt. Khumbetse, Mt. Nuptse, Mt. Lhotse, Mt. Ama Dablam, Mt. Thamserku and other beautiful peaks. Pheriche is the place where one can make phone calls to any part of the world. You can also see many mountain Yaks in Pheriche. Yaks are normally regarded as the porters in this area carrying large, heavy loads up and down the mountains. The town of Pheriche is known as windy town. From there you can see the perpendicular walls of Cholatse and Tawache. This is also the location of the Himalayan Rescue Association Aid Post where foreign volunteer doctors are stationed to provide medical treatment to trekkers as well as local people. Stay overnight at lodge in Pheriche.
Day 13. Trek from Pheriche to Phortse (3750m.) takes almost four and half hours. The trail descends to Pangboche and begins climbing up and down every half an hour to Phortse. On the way there is an opportunity to see wild life like mountain goats, musk deer and many species of Himalayan birds. There are village monasteries in Pangboche and Phortse rich in the cultural heritage of Sherpa people. There is an old monastery in Pangboche which is believed to have been established during the 16th century. The Pangboche village is also known to have the highest permanent settlement throughout the year. Stay overnight at lodge in Phortse.
Day 14. Trek from Phortse (3750m.) to Khumjung (3790m.) It takes almost three and a half hours. The trail here descends for nearly twenty minutes and then ascends steeply for almost one hour to Mongla (4000m.). From this spot, you can see panoramic views of Ama Dablam, Thamserku, Kusum Kangaru, Konde-Ri and Tawache peak. From there, the trail descends and ascends frequently up to Khumjung. The Khumjung village is said to have the largest settlement of the Khumbu region. There is a well-equipped high school built by the late Edmund Hillary in 1960. Not limited to this, there is an old monastery where the skull of the Yeti is believed to be preserved. One of the neighboring villages, Khunde, is also the home of a well equipped Hospital built by late Edmund Hillary in 1964. Stay overnight at lodge in Khumjung.

Day 15. Trek from Khumjung to Thame (3800m.) takes about four hours. From Thame you can visit many other ancient monasteries, experience the real Sherpa culture and enjoy more spectacular views of beautiful mountain peaks. Stay overnight at lodge in Thame.

Day 16. Trek from Thame to Monjo (2835m.) takes about six hours. While trekking from Thame to Monjo you come across a few Sherpa settlements interact with friendly Sherpa people. Trekking this day is little bit easier in comparison to other days. Monjo is a small village and the area is mainly known for the agriculture. You can see people engaged in their agricultural activities. Stay overnight at lodge in Monjo.

Day 17. Trek from Monjo to Lukla (2800m.) takes about four and a half hours. This day the trail gradually descends and ascends as well. You cross the Dudh Koshi river over suspension bridges. Stay overnight at lodge in Lukla.
Day 18. You take an early morning flight back to Kathmandu from Lukla which takes almost 30 minutes. Stay overnight at hotel in Kathmandu.
Day 19. Recreation & shopping day in Kathmandu. Stay overnight at hotel in Kathmandu.
Day 20. Transfer to the Airport for final departure (Fly out from Kathmandu).
Cost Includes:
All airport and hotel transfers
Hotel in Kathmandu with breakfast
Welcome and farewell dinners
All accommodation and meals during the trek
A full day sightseeing tour in Kathmandu valley including tour guide and entrance fees
Domestic flights (Kathmandu-Lukla-Kathmandu) and airport departure taxes
An experienced English-speaking trek leader (trekking guide), assistant trek leader (4 trekkers: 1 assistant guide) and Sherpa porters to carry luggage
Including staff salary, insurance, equipment, flight, food and lodging
Down jacket, four seasonal sleeping bag, duffel bag and trekking map (down jacket and sleeping bag are to be returned after trip completion)
All necessary paper work and permits (National park permit, TIMS )
Medical kit
All government and local taxes

Cost does not Includes:
Nepal entry Visa fee
International airfare to and from Kathmandu
Excess baggage charges
Extra night accommodation in Kathmandu because of early arrival, late departure, early return from mountain(due to any reason) than the listed itinerary
Lunch and Dinner in Kathmandu (and also in the case of early return from mountain than the listed itinerary)
Travel and rescue insurance
Personal expenses (phone calls, laundry, bar bills, battery recharge, extra porters, bottle or boiled water, shower etc)
Tips for guides and porters