Kanchanjunga trekking: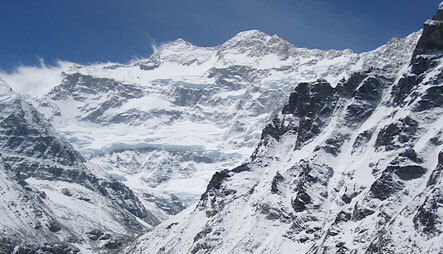 This trek approaches the South Face Base Camp of the world's third highest peak, Kanchenjunga [8598m] which lies in the eastern frontier of Nepal. Mt. Kanchenjunga, one of the world's most challenging peaks to climb, geographically lies on the Nepal-Sikkim (India) border. The trek begins right after landing at a STOL airstrip in Taplejung and goes through fascinating green, crop growing villages and pristine forests to the awe-inspiring South Face Base Camp at Ramche at [4360m], before crossing to the north side of Kanchenjunga via the Mirgin La, the highest pass at [4663m]. The glacial excursion around Ramche is truly an unforgettable experience. The return trek via Ghunsa is easier as most of the path passes along the river valley.
Day 01: Arrival in Kathmandu (1,300m /4,264 ft)
Arrival in Kathmandu airport and transfer to Hotel in Kathmandu.

Day 02: Full day Sightseeing in Kathmandu
Kathmandu Durbar Square, Pashupatinath Temple, Swayambhunath, and Bauddhanath. During the afternoon, you will be meeting with other participants of the trekking program along with your guides at MHT office for a trip discussion.

Day 03: Drive from Kathmandu to Phidim(1,179 m/ (3,868 ft)O/N at Hotel.

Day 04: Drive from Phidim (1,179 m/ (3,868 ft) to Suketar(2,420 m/7,938 ft
After breakfast driving to Suketar. We spend overnight at Suketar. O/N at Hotel.

Day 05: Suketar to Mitlung (921 m/3,021 ft) 4-5 hrs
After breakfast trek start the day with a downhill walk to Mitlung. The trails throughout the lower sections of the Kanchenjunga region pass through productive valleys with beautiful pastures and small villages. We then cross Hangdewa River and walk alongside the raging Tamor River. As we gradually head in a northerly direction the trail steepness' after a few hours before a final descent of 350 meters on a muddy trail to Mitlung. Over night at Tent.

Day 06: Mitlung to Chirwa (1,270 m/4166 ft) 5-6 hrs
After Breakfast trek start for the trail ascends and descends steadily as we make our way towards the village of Sinwa. We continue trekking downhill until we reach Tawa. At Tawa, we ascend to some heights and cross the suspension bridge at Thiwa. We pass beautiful rural landscape along the way and reach Chirwa, a beautiful Limbu village with few lodges, tea shops etc. Over night at Tent.

Day 07: Chirwa to Sukathum (1,576 m/5,169 ft) 5-6 hrs
After breakfast trek start from Chirwa to Sukathum passes through varied landscapes such as cardamom fields and dense forests. We trek uphill for sometime then descend to the lush green fields below and continue trekking along the Tamor River passing through a dense forest. It's both uphill and downhill trek until crossing the Ghunsa River after which we reach Sukathum. Over night at Tent.

Day 08: Sukathum to Amjilosa (2,308 m /7,570 ft) 6-7 hrs
After breakfast Trek start from Sukathum to Amjilosa is challenging. After crossing the suspension bridge outside Sukathum we enter a dense forest, ascend the steep trail, descend and cross the river again. We also climb a gorge from the bottom and pass by Solima village and descend again to the level of the river. All in all, this day's trekking is rather tough. Therefore, it is advisable to be very careful especially while walking the trail that passes the gorge. We later follow a tricky trail which goes both uphill and downhill until reaching Amjilosa. Over night at Tent.

Day 09: Amjilosa to Gyabla (2,730 m /8,954 ft) 6-7 hrs
After breakfast start trek from the river bank, pass through a densely forest of bamboo, fir and rhododendrons eventually reaching a small stone house by the river. We then climb uphill crossing a few small bridges along the way. Here, we get to enjoy the company of stunning waterfalls that originate from the mountains. After yet another short uphill walk we reach the Tibetan settlement to Gyabla. Over night at Tent.

Day 10: Gyabla to Ghunsa (3,595 m/11,792 ft) 5-6 hrs
After breakfast we descend down the river and notice the valley as it slowly opens up before reaching Phale, a Tibetan refugee settlement where it is possible to purchase handicrafts and homemade rugs from locals. After purchasing a few souvenirs we travel through conifer and pine forest and reach the Sherpa village of Ghunsa. Over night at Tent.

Day 11: Acclimatisation day at Ghunsa
Today we take a rest. Spending time acclimatising around Ghunsa before continuing our next day's trek. Today we visit the Laspsan La monastery through the lush green forest. Come back to Ghunsa. Over night at Tent..

Day 12: Ghunsa to Kambachen (4,050 m/13,284 ft) 5-6 hrs
After breakfast trek start from Ghunsa to further north along the river bank which presents us with magnificent mountain scenery. We pass through meadows full with beautiful wildflowers, rhododendron and pine forests. We cross a bridge at Rampuk Kharka, continue past the waterfall and cross the tricky section of the landslide. After crossing the landslide area we begin to see the spectacular view of Mt. Jannu. Then we arrive at Kambachen. Over night at Tent.

Day 13: Acclimatisation Day at Kambachen
We take another day for acclimatisation at Kambachen which is reserved to accommodate participants in high altitude and also to observe if anybody in the group has any symptoms of altitude sickness. Today we take a relax, take a bath at Nuphchu Khola Valley area. Over night at Kambachen in Tent.

Day 14: Kambachen to Lhonak (4,780 m/15,678 ft) 6-7 hrs
After breakfast we start another challenging day and an early start is needed. We trek through rocky fields and large boulders on the hillside along the riverbank and arrive at a waterfall. We then cross a bridge to Ramtang monastery. We then come across a landslide section which we must pass through at a steady pace before descending to the river then arriv at Lhonak. Over night at Tent.

Day 15: Trek to Pangpema/Kanchenjunga North Base Camp (5,388 m/17,673 ft) 6-7 hrs
After breakfast we start trek along the Kanchenjunga Glacier to spend a night at Pangpema, Kanchenjunga base camp on the north side. We advise you to be careful around the rockier sections as they are prone to landslides. After a short while you reach Pangpema, a flat grassy base camp. Climb a little higher and enjoy the splendor of Jannu, Kanchenjunga and Chang Himal. Over night at Tent.

Day 16: Trek back to Kambachen (4,050 m/13,284 ft) 6-7 hrs
Today we repeat our path to Lhonak and continue down the valley to Ramtang Monastery. The return journey offers a different perspective of the mountains Kanchenjunga, Taple Shikhar, Gimmigela, and Mera Peak among others. Due to the descending nature of this trek we will reach Kambachen . Over night at Tent..

Day 17: Kambachen to Ghunsa (3,595 m/11,792 ft) 3-4 hrs
Today after breakfast we descend to Ghunsa from Kambachen which means that we get to enjoy the beautiful forests along with a backdrop of impressive mountain scenery. Overnight at Ghunsa in Tent

Day 18: Ghunsa to Sele Le (4,290 m/14,071 ft) 6-7 hrs
After breakfast treks upward from Ghunsa to Sele-Le. Upon reaching Sele Le we climb through a dense forest of moss, rhododendron and juniper. Overnight in Sele Le. ( Tented Camp)

Day 19: Sele Le to Cheram (3,870 m/12,694 ft) 6-7 hrs
After breakfast we do an ascending trek and enjoy the mesmerizing south side view of Jannu Himal and Makalu. Today is a strenuous trekking day as we cross several passes- Sinion La, Mirgin La and Sinelapche Bhanjyang. We then make a steep descend to Cheram and spend the night there. Over night at Tent.

Day 20: Cheram to Ramche (4,580 m/15,022 ft) and return back to Cheram, 4-5 hrs
After breakfast we ascend past the snout of the Yalung Glacier and walk alongside the Simbuwa Khola, pass through Lapsang village and reach Ramche. While there, we walk further up the valley or ascend a ridge for a tremendous view of blue sheeps. We then follow the stream before climbing on the moraine top until confronted by Kanchenjunga's southern face. We walk further ahead for a glimpse of the Jannu Himal. We can even consider continuing to Oktang Monastery. Descend and spend the night at Cheram. Over night at Tent.

Day 21: Cheram to Tortong (2,995 m/9,824 ft) 5-6 hrs
After breakfast we descend to Tortong we first encounter two trails. One trail is the one we took while descending down from Sele Le. However, we ignore this route and descend further down to the trail alongside the Simbuwa Khola. We enjoy the lush rhododendron forest along the way. Over night at Tent.

Day 22: Tortong to Yamphudin (2,080 m/6,822 ft) 6-7 hrs
After breakfast trek start from Tortong to Yamphudin we pass through Lasiya Bhanjyang which involves walking up through trees and area of landslides. The terrain changes after every monsoon but by the middle of October it should be stable with a route through. Walking further down we reach the village of Yamphudin, a village inhabited by Sherpas, Limbus and Rais. Over night at Tent.

Day 23: Yamphudin to Yangpang (1,007 m/3,304 ft) 6-7 hrs
After breakfast we descending from Yamphudin, cross the bridge at Samekham and continue following the Kabeli Khola. We pass through Mamankhe which houses the Limbu Museum and Cultural Center. We then cross the bridge over Khaksewa Khola and ascend through the cardamom forest, pass by a few villages and descend further down to Yangpang. Overnight at Yangpang. Over night at Tent.

Day 24: Yangpang to Thorpu (1,500 m/4,290 ft) 5-6 hrs
After breakfast we descending down to Thorpu. By opting for Thorpu we will not only be saving us time but will also get to enjoy the landscape of a different route. While descending to Thorpu we pass through some really beautiful terraced villages, where the people are very interested to see you. We spend the night in Thorpu and enjoy the hospitality of the villagers. Over night at Tent.

Day 25: Thorpu to Birtamod (300 m/ 984 ft) 5-6 hrs
After breakfast we drive from Thorpu to Birtamod which is a lively Terai town in Eastern Nepal. Here climate getting warmer with a landscape that is different from the mountains and the hills. Overnight in Birtamod. O/N at Hotel.

Day 26: Drive from Birtamod to Bhadrapur then Fly back to Kathmandu
After breakfast we drive to Bhadrapur airport then we fly back to Kathmandu. So, today you can take a rest and relax. O/N at Hotel.

Cost Includeds:
• All necessary transportation as per itinerary.
• Hotel in Kathmandu with B&B
• Bhadrapur-Kathmandu flight
• Transportation Bhadrapur-Ilam-Bhadrapur by normal bus or Jeep
• All accommodations in tents and all meals during the treks
• Down jacket, 4 seasonal sleeping bag (down jacket and sleeping bag are to be returned after trip completion)
• Welcome & farewell dinner
• All porterages costs
• All English Speaking Guide and sherpa, a sherpa assistance leader(s) and assistance Trek leader.
• All necessary paper works and trekking permits
• Travel & Rescue arrangements
• Exclusive Medical Kit Bag
• Portable Altitudes Chamber (PAC) for safety measures ( if on group less than 3 people we will provide on request and extra fee)
• All government and local taxes if necessary
• Magnificent Himalayan treks Kit Bag

Cost does not Includeds:
• Nepal Visa fee
• International airfare to & from Kathmandu.
• Excess baggage charges
• Lunch & Dinner in Kathmandu
• Travel and rescue insurance
• Personal expenses such as phone calls, laundry, bar bills & extra porters
• Tips for guides and porters
• Optional trips and sightseeing if extend