Kanchanjunga Expedition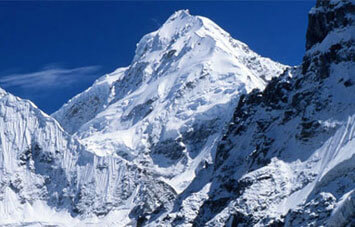 Kanchenjunga Expedition is one of the coolest 8000m mountain climbing in Nepal with remoteness, and some not too difficult technical climbing in a huge massif. With spring climbing at its best it can be also climbable in autumn albeit in somewhat difficult snow conditions.

Kanchenjunga Expedition to the third highest mountain in the world (after Mount Everest and K2), with an elevation of 8586m/28150ft and located in Eastern Nepal on the border between Nepal and Sikkim, India territory, is tough peak for climbing but extremely enjoyable climb for an experienced climber-mountaineer. Kanchenjunga translates to "The Five Treasures of Snows" representing 5 peaks of this majestic massif and 4 of them in 8000m range Kanchenjunga Main 8586m/28150ft, Kanchenjunga West (Yalung Kang) 8505m/27885ft, Kanchenjunga Central 8482m/27810ft, Kanchenjunga South 8494/27850ft, and Kangbachen 7903m/25910ft. 3 highest Kanchenjunga peaks are located precisely on the border and 2 lower are entirely located within Nepal.

The massif of Mount Kanchejunga forms enormous ridges extending south-north and east-west forming giant X with numerous stunningly beautiful peaks between 6000m and 8000m with prominent peaks of Siniolchu 6888m/22580ft on the East Ridge in Sikkim; magnificent Jannu 7710m/25280ft on the west ridge; Kabru North 7338m/24060ft, Kabru South 7316m/23990ft and Rathong peaks 6678m/21900ft on the south ridge and the north ridge containing Kanchenjunga North 7741m/25380ft with the Twins and Tent Peak extends north to the Tibetan border by the Jongsong La pass 6120m/20065ft.

In the local Limbu language Kanchenjunga is known as Sewalungma which translates as 'Mountain that we offer Greetings to' and not surprisingly so as it is a sight to respect. Mount Kanchejunga is also sacred mountain to Sikkim people and as a permit condition of first Kanchenjunga Expedition was not to step on the peak point itself, which was respected by British expedition, who stopped few feet from actual peak, and it has been a traditional way for most of the respected climbers to follow the tradition of the first Kanchenjunga Expedition.

British Kanchenjunga Expedition members Joe Brown and George Band were first to reach the summit on May 25, 1955. Mount Kanchenjunga was believed to be the highest mountain in the world until 1852 when calculations made by the British Great Trigonometric Survey in 1849 revealed that Mount Everest, known as Peak XV at the time, was the highest and Mount Kanchenjunga the third-highest.

Kanchenjunga Expedition is challenging and interesting from climbing aspect and the scale and scenery of the Kanchenjunga massif. Normal climbing route is along the original Kanchenjunga climbing route from Yalung glacier located on the south side of the mountain. There is also climbing route from Kanchenjunga North Base camp in Pangpengma but is not climbed as often. The access to the climb is very spectacular through remarkable Kanchenjunga Conservation Area containing a Conservation Project sponsored by World Wildlife Fund in conjunction with the Government of Nepal protecting and documenting rich fauna and flora including rare Red Pandas.

Visit our Kanchenjunga virtual 3D climbing route fly-over created in Google Earth to visualize the Kanchenjunga climbing route and the views of the massif. It starts in the base camp 5170m/16950ft on Yalung Glacier' moraine and leads to Camp1 at 6200m/20300ft located on the top of ridge named 'The Hump' by first Kanchenjunga Expedition. The route follows to KanchenjangaCamp2 at 6400m/20990ft below ice cliffs leading to KanchenjangaCamp3 at 7100m/23280ft called traditionally 'The Shelf'. The last Kanchenjunga Camp4 7550m/24750ft is located at the foot of couloir leading to the summit. Check also Magnificent Himalayan Treks & Expedition 3D Kanchenjunga route topo map.
Itinerary Details
Day 01: Arrive Kathmandu, transfer to the hotel and welcome dinner in the evening
Day 02/04: Stay in Kathmandu for paper work and some other necessary preparation
Day 05: Fly to Bhadrapur early morning & Drive to Phidim. Overnight in Lodge
Day 06: Phidim to Tharpu/Panchami. Overnight in Camp
Day 07: Tharpu/Panchami to Doban. Overnight in Camp
Day 08: Doban to Khewang. Overnight in Camp
Day 09: Khewang to Yamphudin Bhote Gaun. Overnight in Camp
Day 10: Yamphudin to Torontang forest camp. Overnight in Camp
Day 11: Torontang to Tseram. Overnight in Camp
Day 12: Tseram to Ramje. Overnight in Camp
Day 13: Rest /acclimatization day at Ramje. Overnight in Camp
Day 14: Ramje to (Moraine) glacier camp. Overnight in Camp
Day 15: Moraine to. Kuna Camp Overnight in camp
Day 16: Trek to Kanchenjunga BC. Overnight in camp
Day 17 to Day 20: Leisure at BC for acclimatization, blessing ceremony & climbing preparation.
Day 21 to Day 55: Mt. Kanchenjunga climbing period.
Day 56: Return trek to Ramje. Overnight in Camp
Day 57: Ramje to Torontang forest camp. Overnight in Camp
Day 58: Torontang to Yamphudin Bhote Gaun. Overnight in Camp
Day 59: Yamphudin to Khewang. Overnight in Camp
Day 60: Khewang to Panchami. Overnight in Camp
Day 61: Panchami to Tharpu. Overnight in Camp
Day 62: Drive from Tharpu to Bhadrapur.
Day 63: Fly back to Kathmandu Transfer to hotel
Day 64: Leisure day in Kathmandu
Day 65: Leisure in day Kathmandu
Day 66: Departure to your next destination
Cost includes:
Airport pick up and Drop.
hotel in Kathmandu with Bed & Breakfast.
Sightseeing in Kathmandu Valley.
Kanchenjunga conservation Area permit
Expedition Permit and Climbing Guide charge.
Local Transfer and domestic flight.
Domestic airport fares KTM-BDP-KTM.
All camping Equipment, two men tents, Dining tent, Kitchen Tent, Toilet Tent, Table, chairs and Mattresses during the trekking & climbing.
Three times meal during whole trip
Guide, Cook, Sherpa, Kitchen staffs and porters
Liaison officer allowance fee
all expedition equipment transportation cost
high altitude staffs ( cook, Sherpa and helpers), High altitude food and fuel
Insurance for trekking staff.
Gamow bag for emergency use
Cost does not include:
Personal equipment for Trekking and climbing.
Personal travel Insurance.
Oxygen and regulators,
High altitude tent for base camp
Communication satellite set.
Lunch & dinner in Kathmandu.
Emergency Rescue evacuation.
Personal expenses/Bar bills.
Tipping / summit bonus for Expedition staff.
Garbage deposit US Dollar 3000.( Refundable, after clearance of garbage at base camp.)
Personal Equipment
# Summit shoe 1
# Down suits (dangri) 1
# Walking shoe 1
# Crampon 1
# Summit Glove (Mitten) 1
# Normal gloves 2
# Summit Snow goggles 1
# Glacier glasses 1
# Ice axe 1
# Harness 1
# Jumer 1
# Carabiners (normal) 3
# Sleeping bag (-40C) 1
# Down filled Mattress 1
# Summit socks 2
# Normal socks 3
# Climbing bag (40 ltr) 1
# Helmet 1
# Down jacket 1
# Down trouser 1
# 8 finger / descender 1
# Headlamp (Icon or Spot) 1
# Gore-tex jacket 1
# Gore-tex trouser 1
# Fleece jacket 1
# Fleece trouser 1
# Fleece liner gloves 3
# Screw Gate Carabiner 1
# Balaclava (windstopper) 1
# Thermos bottle 1
# Base layer (woolen) 2 (set)
# Water bottle normal 1
Climbing Gears
# Ice crews
# Fix rope
# snow bars
# EPI gas
# Rock piton
# Carabiners (normal)
# High tent
# Summit rope
# Cooking pot
# Snow shovel
# Ice hammer / adge (set)
# Member high food
# Oxygen
# Mask & regulator
# Quick Draws