LHASA-EVEREST BASE CAMP-ZHANGMU
TIBET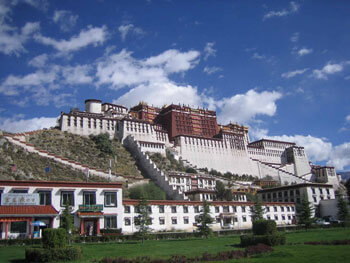 Tibet one of those extraordinary destination where indeed adventure lurks around every corner! Adventure on the road is never short on the beautiful Transhimalayan drive, through mountain, passes, promising a panorama of a cultural and scenic diversity unsurpassable anywhere. It culminates on an arid plateau - a varitable treasure trove of architectural masterpieces - the Buddhist monasteries of Drepung, once the largest in the country The Jhokhang - a spiritual center, and the awesome palaces of the Dalai Lama - Norbulinga ( the summer palace ) and the Potala
( the traditional seat ). Ancient Barkhor Bazaar still barters the bric -- a -- brac, in a region that's not so much a little strange as utterly surreal.
Pilgrimage to Mansarovar and the Holy Mt. Kailash
Mt. Kailash claimed to be the apex of the Hindu religious axis is also one of the highest mountain in Tibet at 22,022 feet, and Lake Mansarovar at 14,950 feet is said to be the highest fresh water lake in the world. Certainly a difficult region to reach due to the variable and extreme weather conditions. The distance from Lhasa for example is approximately 2000 km.
Only during the last few years have lots of ordinary and not so ordinary travelers, been able to experience this region. Road conditions are difficult much of the time and we have to make many preparations to ensure that we have a reasonable chance of reaching Kailash. We need to bring our own food and camping equipment. Basic lodges and tea-houses can be found but the plateau is so remote that it is possible to travel for several days without finding food available.
To travel for days on this remote plateau with the chance encounters of nomads herding their sheep or yaks is to be transformed into another way of life, to see and become part of such a devout pilgrimage as shown by pilgrims around Mt. Kailash and Lake Mansarovar is to put some aspects of our western way of life into proper perspective.
We begin the tour by traveling to Kathmandu and departing by road to the Nepal/Tibet border town of Zhangmu where we collect our Transport. We travel by the SOUTHERN route and after our pilgrimage (religious or secular) we return by the same route. The day to day program is outlined as follows:
Day 01: KATHMANDU-TO LHASA

This morning after breakfast transfer to your flight to Lhasa, capital of Tibet.We need to line up in the order of the visa to enter this country. (Fellow travellers below are in this order.) We meet our Tibetan guide at the airport. He will be with us for the next nine days. The transfer to Lhasa (at 3660 m) is an eighty kilometre drive through villages, crossing the Brahmaputra River, and giving us a taste of the amazing landscapes to come. In Lhasa, we will stop at the Bank of China to change money to Yuan. We will be spending the next four nights accommodating to the altitude by taking it easy and pacing our sight-seeing. This afternoon we will have a short orientation stroll in the exciting streets around our hotel. Water is a little more expensive at 3 to 4 Yuan per half litre, i.e. 60 cents.

Day 02: LHASA
This morning our guide will take us to visit the most holy of all Tibetan temples, the Jo-Khang Temple (7th century). Pilgrims of all ages walk clockwise around this place, twirling their ever-present prayer-wheels. The colourful prayer flags which dominate the skyline everywhere in Tibet, have prayers printed on them, so that when they flutter in the breeze, a prayer is released heavenwards. We can try one of the local restaurants in the Barkhor Square for lunch. This afternoon we visit the monks at Sera Monastery (founded in 1419), and watch the daily debating.

Day 03. LHASA
Today we visit the previous winter home of the Dalai Lama, the Potala Palace. We can photograph wonderful views of all Lhasa, from the very spot the young Dalai Lama observed his people through his large telescope. After a lunch, where we can buy traditional meals of mo-mos, potato and yak meat stew or soups, we visit the Summer Palace, Norbulinka.

Day 04. LHASA
Today we visit the Drepung Monastery (founded 1416), once the largest monastery in the world, with up to 10,000 monks. Here, as in most monasteries, a small payment allows photography of the magnificent images and paintings. We leave this afternoon free for shopping, photography or just wandering with the pilgrims. You might like to buy some snacks for lunches on the road. Neil will arrange the purchase of thermos (vacuum) flasks and have them filled with boiling water for the road.

Day 05. LHASA-YAMDROK TSO-GYANTSE
Today we set off (in 5 Toyota 4WD Land Cruisers) to travel what is, without a doubt, one of the most spectacular journeys in the world. In a few hours, we visit our first high pass, where we can have stunning views (Kamba-la Pass 4794m) down into the beautiful blue Yamdrok Tso (lake at 4488m). In the distance is Mt Nojin Kangtsang 7191m. After a picnic stop near the lake, we continue on to Gyantse (3950m). We will visit a small local restaurant for dinner.

Day 06. GYANTSE - SHIGATSE
This morning we visit the large stupa (Gyantse Kumbum from 1440) overlooking Gyantse before we drive 90km on to Shigatse (3900m). Here we visit the Tashilhunpo Monastery (founded 1447), the seat of the Panchen Lama. The Panchen Lama is second only to the Dalai Lama, and is seen as the re-incarnation of one of Buddha's manifestations. Shigatse is the second largest town in Tibet.

Day 07. SHIGASTE- RONGBUK MONASTERY
Again today we will bring food to picnic in some beautiful valley, in view of grazing yaks, serious horsemen, and gentle shepherds. Today we drive through Sakya to Lhatse (150km from Shigatse) and Shegar, then we turn off the Friendship Highway to Pangla. This is a day of driving, through amazing valleys and passes, with glaciers and snow covered peaks appearing above stark treeless ranges. We then drive on 63km to the Rongbuk Monastery (5000m) where we spend the night. This will be simple accommodation, in close proximity to the highest mountain in the world.


Day 08. EVEREST BASE CAMP-TINGRI:
This morning we make the short 8km drive to Everest Base Camp (5200m) where we are 15km from this magnificent mountain(Mt Everest; 8848m high; known as Chomolangma to the Tibetans, and translated to Qomolangma by the Chinese. In Nepal, it is Sagamatha.) Later in the morning, we drive 65km back to the highway. Overnight at Tingri (4350m). Tonight we will stay in a simple and very friendly hotel with wonderful views.

Day 09: TINGRI-ALPINE RAINFOREST-ZHANGMU:
After an early breakfast, we force ourselves away from the Himalayan views, and continue our journey towards the southern border of Tibet. We cross our final high pass, at 5,200m, La Lung Pass, then enter the alpine rainforests. We drive through deep gorges, quickly changing from the browns and yellows of Tibet, to the lush greens of the lower slopes of the Himalayas. Waterfalls seem to fall from the clouds into the racing streams deep in the valleys. We overnight in Zhangmu.

Day 10: ZHANGMU-FRIENDSHIP BRIDGE-KATHMANDU:
This morning, we officially leave the Friendship Highway (2300m) and cross the border into Nepal. Change your Yuan back to US$'s or Nepalese Rupees on the road here. Ensure that the chinese stamp your passport on exit from Tibet!!!! We are met by our friendly local representative and we start our drive back to Kathmandu. We stop in a small village for lunch, then continue on to Kathmandu.
On arrival get your Nepal visa (USD25).

Cost includes:
# All necessary transportation by private vehicle.
# Air fare Kathmandu - Lhasa
# Entrance fees for sightseeing spot Tibet site.
# English speaking Tibetan guide
# Hotels on twin sharing with daily breakfast (B/B)
# Tibet travel permit.
# The above private escorted tour is customized for you, your family or your friends exclusively. No other travelers will join in your group.
Cost exclude:
# Tips to your tour guide and driver
# Personal expenses.
# Chinese Visa fee
# Excess baggage charges.
# Lunch and Dinner
# Bar Bill, Laundry, Telephone, etc……