Kathmandu-Tsedang-Lhasa-Zhamgu
TIBET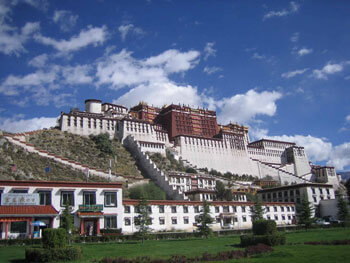 Tibet one of those extraordinary destination where indeed adventure lurks around every corner! Adventure on the road is never short on the beautiful Transhimalayan drive, through mountain, passes, promising a panorama of a cultural and scenic diversity unsurpassable anywhere. It culminates on an arid plateau - a varitable treasure trove of architectural masterpieces - the Buddhist monasteries of Drepung, once the largest in the country The Jhokhang - a spiritual center, and the awesome palaces of the Dalai Lama - Norbulinga ( the summer palace ) and the Potala
( the traditional seat ). Ancient Barkhor Bazaar still barters the bric -- a -- brac, in a region that's not so much a little strange as utterly surreal.
Pilgrimage to Mansarovar and the Holy Mt. Kailash
Mt. Kailash claimed to be the apex of the Hindu religious axis is also one of the highest mountain in Tibet at 22,022 feet, and Lake Mansarovar at 14,950 feet is said to be the highest fresh water lake in the world. Certainly a difficult region to reach due to the variable and extreme weather conditions. The distance from Lhasa for example is approximately 2000 km.
Only during the last few years have lots of ordinary and not so ordinary travelers, been able to experience this region. Road conditions are difficult much of the time and we have to make many preparations to ensure that we have a reasonable chance of reaching Kailash. We need to bring our own food and camping equipment. Basic lodges and tea-houses can be found but the plateau is so remote that it is possible to travel for several days without finding food available.
To travel for days on this remote plateau with the chance encounters of nomads herding their sheep or yaks is to be transformed into another way of life, to see and become part of such a devout pilgrimage as shown by pilgrims around Mt. Kailash and Lake Mansarovar is to put some aspects of our western way of life into proper perspective.
We begin the tour by traveling to Kathmandu and departing by road to the Nepal/Tibet border town of Zhangmu where we collect our Transport. We travel by the SOUTHERN route and after our pilgrimage (religious or secular) we return by the same route. The day to day program is outlined as follows:
DAY 01: KATHMANDU (1300M)- TSEDANG (3650M)

Fly (1hr.) to LHASA over crossing the highest Himalayan ranges of the
world. Transfer to TSEDANG and check-in to HTL. Full rest for acclimatisation.

DAY 02: TSEDANG - LHASA
AM: Visit YUMBULAKHANG & THANDRUK MONASTERY. Then drive to LHASA (3650M) with a visit to SAMYE MONASTERY (5-6 HRS) –O/N at HTL

DAY 03: IN LHASA
AM: Visit POTALA PALACE. PM: Visit JOKHANG TEMPLE & BARKHOR BAZAAR – O/N at HTL

DAY 04: LHASA - GYANTSE (3,950M) : 261 KM
Scenic drive to GYANTSE via YAMADROKE LAKE (Torquise Lake) over crossing two high passes KAROLA (5,010M) & KAMBALA (4,794M) - HTL

DAY 05: GYANTSE - XIGATSE (3,900M): 90 KM
AM: Visit to the KUMBUM STUPA & PHALKOR MONASTERY. Pm: visit PANCHEN LAMA'S TASHILHUMPU MONASTERY, Tibetan
bazzar -O/N at HTL

DAY 06: XIGATSE - XEGAR (4350M): 244 KM
Picturesque drive to XEGAR by over crossing the high pass GYTSO LA (5220M) O/N - HTL

DAY 07: XEGAR - ZHANGMU (2300M): 244 KM
Scenic drive via NYALAMU PASS (4800M) with an opportunity to see MT. SHISHAPAGMA, MT CHO OYU, MT EVEREST from the NYALAM PASS ( weather permitting) and continue downhill drive to ZHANGMU - HTL

DAY 08 : ZHAMGU - KATHMANDU (1300M): 130 KM
After necessary border formalities, continue drive to KATHMANDU through the scenic Nepalese countryside - Transfer to your hotel.


Cost includes:
# All necessary transportation by private vehicle.
# Air fare Kathmandu - Lhasa
# Entrance fees for sightseeing spot Tibet site.
# English speaking Tibetan guide
# Hotels on twin sharing with daily breakfast (B/B)
# Tibet travel permit.
# The above private escorted tour is customized for you, your family or your friends exclusively. No other travelers will join in your group.
Cost exclude:
# Tips to your tour guide and driver
# Chinese Visa fee
# Personal expenses.
# Excess baggage charges.
# Lunch and Dinner
# Bar Bill, Laundry, Telephone, etc……