Gokyo Chola Pass Trek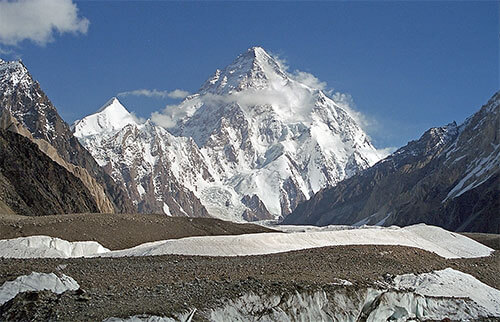 This trek gives you the grand tour of the famous Khumbu area. This is a strenuous trek leading to Gokyo Lake and over the Cho La Pass at 5330m leading into the Khumbu valley above Lobuje. The trail continues up to Kalapattar and then back to Lukla via Thengboche and Namche Bazaar.

With eight of the world's ten highest peaks, Nepal is loaded with spectacular mountains vistas. Trekking in the Everest area is an awesome experience, not only for its proximity to the world's highest mountain but also for its friendly Sherpa people, picturesque villages, great variety of cultures and traditions, colourful festivals and monasteries. The flora and fauna are other ornaments of the Sagarmatha National Park. The story of the yeti is still a mystery and the legend lives on in the Khumbu.

Strenuous trekking is continuously rewarded with dramatic Himalayan scenes, including four of the world's eight highest peaks: Cho Oyu (8201m), Makalu (8463m), Lhotse (8516 m) and Everest (8850m). Breathtaking mountain vistas are complemented by visits to Sherpa villages, homes and monasteries offering you an insight into the quiet but, culturally vibrant Sherpa way of life.

The following itinery is a suggested outline for a trek which covers the highlights of the Khumbu and the most visited places. Details may vary according to personal taste and time schedule. The schedule caters for tea house trekking, expedition style trekking where porters carry your tent and food, or a combination of both.

Critcally important though is to follow a proper acclimatisation process. This is so often hurried with dire consequences. This is a high altitude trek with considerable time sleeping at high altitudes.

After a few days of rest and sightseeing in Kathmandu you are ready to embark on the journey.
Day 01: Arrival in Kathmandu
After arrival in Kathmandu International airport, we will meet you. We will assist you to transfer your hotel. At hotel we gives you orientation of the overall trip. O/N at hotel in Kathmandu.
Day 02: Fly Kathmandu to Lukla (2810m). Trek to Phakding (2652m)
Early morning transfer to Kathmandu airport domestic terminal to catch flight to Lukla (2810m).The flight duration is approximately 45 minutes. Have a tea and coffee in Lukla. One hour rest at Lukla in mountain Lodge. Then your trekking starts from Lukla. The trail contour through the Sherpa village and yak pasture land. Have a lunch in Thado Koshi (2591m) with stunning view of Kum Kangaru(6370m). You will see the painted Mani wall in Ghat (chhuthawa) village. In the late afternoon you arrive to Phakding. O/N at mountain lodge.
Day 03: Phakding to Namche Bazaar (3446 m)
Your trekking starts after breakfast at mountain lodge. You cross long suspension bridge over the Dhudh Koshi River which is originated from Khumbu glacier. Today you will enter the Sagarmatha National Park in Monjo village. You have lunch in Jorsale(2740m).The trail goes ahead along the Dudhakoshi river. You cross anther suspension bridge in Larja Dobhan(2830m). From here the trail moves to steep staircase through pine forest. After half and hour steep walking you will see Mt Everest (8848m). The trail ascends until Namche Bazaar through the alpine forest. You will be delighted to see Namche Bazaar. The Namche bazaar is gate way of the Everest base camp trekking. Enjoy staying two nights here. O/n at mountain lodge.
Day 04: Rest in Namche Bazaar/ Excursion Namche Bazaar and Syangboche(3880m). Back to Namche Bazaar.
Rest day in Namche Bazaar is especially for acclimatization with altitude. On this day you can walk around Namche Bazaar. Here you can get many facilities such as bank, internet, bakery and shopping. After the breakfast One and half hour steep walking to Syangboche (3880m). From Syangboche you can see Mt. Everest(8848m), Lhotse(8516m), Ama Dablam(6814m), Thamserku(6618m) and more mountains. Have a tea and coffee in Everest view hotel. The trail descends half an hour to the Khumjung village (3780m), the village of Sherpas, the worldly renowned climbers. In Khumjung village you can visit Kumjung Hillary School and Kumjung Gompa. After lunch hike back to the Namche Bazaar. O/n at mountain lodge.
Day 05: Namche Bazaar to Dole (4200m)
The trek starts steep stone staircase over the Namche. After the top the trail becomes easier and trail contour the Dhudhkosi valley. By walking you can see incredible Khumbu valley with world highest mountains and Tengboche Monastery. After nearly 2 hours of walking you reach to Sanasa(3600m). Here have a few minutes rest before hard steep 2h climb to Mong Danda (3973m).From here you will see the magnificent views of Mt. Ama Sablam, Mt. Kangtaga and Mt. Thamserku with Dudhkosi valley. The trail climbs away from the Phortse Tenga passing through the Rhododendron and pine forest. After 20m steep climb first appears Cho Oyu. You will cross the beautiful water fall and yak pasture. Then reach to Dole. O/n at mountain lodge.
Day 06: Dole to Machhermo (4470m)
Today is easy day and better view of in your past days. From Dole the trail descend to stream than cross the wooden bridge. You will cross the few teahouses, the trail ascend one hour to top hill. You can take time here for picture. You will reach in Luza(4390m) after 1 hour 50 minutes walk from Dole. Here you can take rest and tea. From Luza trail becomes a ups along the side of valley than cross the more high pastureland and chorten with prayers flags. Many writers saying yeti killed the Sherpa women and Yak here. Form this hill enchanting view of eastern part Gokyo valley, Mt. Taboche and Mt. Cholatse. Then walk down to Machhermo valley. O/n at mountain Lodge.
Day 07: Machhermo to Gokyo Lake (4790m)
The trail climbs the ridge of valley excellent view of Kantaga and big Mountain Cho-oyu. The tail becomes more ups to Kharka. Here few stone hoses, then trail will be easier to Pangka at 4380m. In November 1995 big avalanche came here and killed trekking group and villagers. From here the tail will be narrow and steep climb close to the Ngozumpa glacier. The end of hard ascends cross the bridge over the stream which is flow from Gokyo Lake. This is the first small lake of Gokyo. From here the trail almost in level appears second lake at 4720m. It called Taujun Lake. Finally your will climb to the last lake of Dudha Pokhari at 4750m in Gokyo Lake (4790m). O/n at mountain Lodge.
Day 08: Morning climb to Gokyo - Ri (5340) / Afternoon walk around the Gokyo Lake
Have a breakfast early in morning. Before climbing make sure you have water, some snacks and plenty of warm clothes. The trail climb steep ups directly above the Gokyo lake.2h and half hour hard climb to Gokyo-ri at 5340m. From the top great Himalayan views of world highest mountain with Makalu range better than Kala Pattar above the Gorkhashep. After taking picture all the way downhill to Gokyo Lake. Have lunch and rest two hours. If you're feeling good you can hike to the oldest and longest glaciers of Khumbu valley. O/n at mountain Lodge.
Day 09: Gokyo Lake to Thangna Kharka (5025m)
From Gokyo the trail descends, looking at the views of the fine mountains and natural beauty, towards Thangna which is consider as the base of Cho -La Pass. It takes around four hours to reach Thangna Kharka from Gokyo lake.O/n at mountain Lodge.
Day 10: Thangna Kharka to Dzongla crossing Chol- La Pass (5330m)
Today is a long trek starting before sunrise at 4/5 am to reach the pass by 9-10 am otherwise weather conditions will greatly affect your journey. You cross over at an altitude of 5300 meters. You could be exposed to strong winds if crossing too late. You start to climb steeply that is regularly used and easy to follow. However, the problem may arise due to the altitude and snow. It often causes terrible problems to cross the pass if it is covered by snow. As you reach the top, you are rewarded by the magnificent views then you descend to the Dzongla at noon. O/n at mountain Lodge.
Day 11: Dzongla to Lobuche (4930 m)
The trail continues along the moraine from Dzongla affording you splendid views of Kala Pattar and Pumori before you reach Lobuche. Today you walk around 4 hours. O/n at mountain Lodge.
Day 12: Lobuche to Gorkhashep(5140m)-Kalapatter(5545m). Return back to the Gorakhashep
Today in the beginning you walk along the flat trial through yak pasture trail (50 minutes). Then you to walk in glacier. The trail is rough and icy in some part. And you arrive to Gorak Shep (5140m). Have lunch and rest in the mountain lodge of Gorak Shep. After light lunch start to climb Kalapatthar(5550m). After nearly three hour climbing, you will reach on top of the Kalapatthar. There you get little bit strong wind. Kalapatthar is one of the prime points for the massive view of Mount Everest (8848m). Enjoy the view of Mt. Everest and other towering mountains. From here you also can see Everest base camp just below. After a while return back to Gorak Shep. O/n at mountain lodge.
Day 13: Gorkha shep to EBC and down to the Lobuche(4930 m).
Early in the morning start trekking towards Everest base camp (5364m). The trail is narrow and rocky so that we suggest trekkers to concentrate their mind in trail before stepping. The Everest base camp is moving up and down every year because Khumbu glacier is moving to the down. In Everest base camp you can't spend your overnight because there is no facility of tea houses. Only people stay at night in camp who are climbing to Mt. Everest. Spend half an hour there take photos for your memory. Then return to Gorak Shep and have a lunch. After lunch back to the Lobuche(4910m). O/n at mountain lodge.
Day 14: Lobuche to Pangboche (3930m)
From Lobuche you descend and retrace your steps to Pangboche. It takes around seven hour of walking. O/n at mountain lodge. O/n at mountain Lodge.
Day 15: Pangboche to Namche Bazzar (3446m)
From Pangboche you walk down to Namche Bazzar crossing Tengboche Monasery, one of the most reverend Buddhist monasteries of Khumbu region. It takes around six hour of walking. O/n at mountain Lodge.
Day 16: Namche Bazzar to Phakding. 5h walking. O/N at mountain lodge
Day 17: Phakding to Lukla. 4h walking. O/N at Mountain lodge
Day 18: Fly back to Kathmandu. O/n at hotel in Kathmandu
You should pack up early in the morning. Then have a breakfast and hike down to Lukla airstrip. Take a flight to Kathmandu. The rest of your day is free in Kathmandu. In evening you can stroll around Thamel, the major tourist destination of Kathmandu. You can do some last minute shopping of souvenirs for your family and relatives. Overnight at hotel in Kathmandu
Day 19 : City guided tour in Kathmandu.
After breakfast, at 9 am sightseeing tour to Pashupatinath( famous Hindus temple in south Asia, Boudhanath( Biggest Buddhist stupa in the world) Patan city (16 century royal palace), Syambhunath( Buddhist hill top temple), Kathmandu City. Overnight at the hotel on BB plan.
Day 20: Transfer to the airport for your onward Destination.
Today is your the last day in Nepal. We will come to meet you at your hotel to escort you to Kathmandu International Airport for your onward flight.
Cost Includes:
All airport and hotel transfers
Hotel in Kathmandu with breakfast
Welcome and farewell dinners
All accommodation and meals during the trek
A full day sightseeing tour in Kathmandu valley including tour guide and entrance fees
Domestic flights (Kathmandu-Lukla-Kathmandu) and airport departure taxes
An experienced English-speaking trek leader (trekking guide), assistant trek leader (4 trekkers: 1 assistant guide) and Sherpa porters to carry luggage
Including staff salary, insurance, equipment, flight, food and lodging
Down jacket, four seasonal sleeping bag, duffel bag and trekking map (down jacket and sleeping bag are to be returned after trip completion)
All necessary paper work and permits (National park permit, TIMS )
Medical kit
All government and local taxes

Cost does not Includes:
Nepal entry Visa fee
International airfare to and from Kathmandu
Excess baggage charges
Extra night accommodation in Kathmandu because of early arrival, late departure, early return from mountain(due to any reason) than the listed itinerary
Lunch and Dinner in Kathmandu (and also in the case of early return from mountain than the listed itinerary)
Travel and rescue insurance
Personal expenses (phone calls, laundry, bar bills, battery recharge, extra porters, bottle or boiled water, shower etc)
Tips for guides and porters