Ganesh Himal Ruby Valley Trekking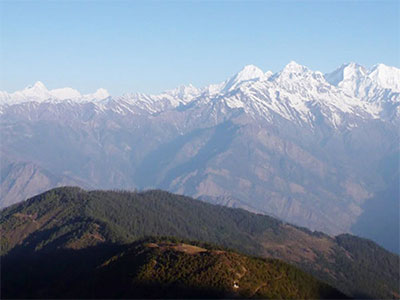 Nuwakot Rasuwaa,Dhading, and Gorkha districts are at the geographical center of Nepal and lie at the heart of the nation's history. It is from these hills that Gorkha hillsmen, led by Prithvi Narayan Shah, set out to unite Nepal in the late 1700s. Since then, Gorkha soldiers have received international fame for their bravery and skill as warriors.

Although near to both Kathmandu and Pokhara, the Ganesh Himal Region has remained a well-kept secret to all but Nepal's most avid trekkers. The unexplored area is concealed between the popular destinations of Langtang National Park and the Mansaslu Conservation Area Project.

Wildflowers flourish, and waterfalls embellish the lush hill scenery in a land blessed with wide-ranging geographical, cultural and biological diversity. Sensational viewpoints feature the sublime Himalaya to the north. Most prominent is the Ganesh Himal Range, a family of peaks among the most attractive of the entire Himalaya. The Ganesh massif is named in honor of Hindu deity Ganesha, son of Shiva and Parvati. Selected viewpoints in the area offer immense panoramas.




DETAILS ITINERARY
Day 01: Arrive in Kathmandu (1400m) transfer hotel. Short breefing about the programme.Overnight at hotel.

Day 02: Free day in Kathmandu (Sightseeing around Kathmandu valley, Pashupatinath, Soyambhunath and Kathmandu Durbar Square). And Trekking permit arrangement. Overnight at hotel


Day 03: Kathmandu to Shyabru Besi 1503 m /4945 Ft. 8-9 hrs drive
After breakfast drive from Kathmandu reaches Shyabru Besi, gateway to the Langtang Valley at the confluence of the Trisuli and Langtang Rivers. Mesmerizing scenic driving and passing through Trisuli Bazaar, Ramche Gaon and Dhunche Bazaar makes you scenic driving. Narrow and bit adventurous zig zags road but amazing landscape along the way driving will make you good start day drive of the trek. Overnight at Lodge.

Day 04: Shyabru Besi to Chawatar (lunch) to Gatlang 1 hour drive, 2337 m/7690Ft. 5- 6 hrs hike
A dirt track zig-zags to the west up to Bahun Danda Pass and then down to the Tamang settlement of Gatlang, a cornerstone village on the Tamang Heritage Trail or hike to Gatlang by way of Chawatar. Gatlang is a Tamang village with unique customs and craftsmanship in a magnificent setting. Above lies Parvati Kund, popular during Janai Purnimaa when thousands of pilgrims are attracted to the sacred pond and nearby temple. Overnight at Tent.

Day 05: Gatlang to Parvati Kunda ,Yuri Kharka (lunch) to Somdang 3271m/10760Ft. 6-7 hrs
After breakfast the trail ascends through pine and rhododendron forest to a lunch point of Yuri Kharka before continuing to Khurphu Bhanjyang and then dropping down to the Somdang River, border between Rasuwaa and Dhading districts. Overnight at Tent.


Day 06: Somdang to Pangsang Pass (La) 3 hrs 3842m/12640Ft 3 ½ hrs
After breakfast trek to Pangsang pass. Is a viewpoint southwest of Somdang village with a broad panorama of the surrounding terrain. To the north are the soaring peaks of Manaslu and the Ganesh Himal Range. The large meadow is graced with a giant entry gateway and is a sensational location for camping. Overnight at Tent.

Day 07: Pangsang Pass to Tipling (lunch) – Shertung /Chalish 1875m/6188 Ft 5-6 hrs
After breakfast trek to Tipling -Sherthung, a large village that hosts two Buddhist gombas and both a Protestant and Catholic church. Along a ridge top to the east is a gomba and cremation ground for both Buddhists and Christians lined with colorful flags. Descend to cross the Adha Khola on a box bridge and ascend to the sister villages of Shertung and Chalish, regally overlooking the fertile river valley and abundant fields. Overnight at Tent.


Day 08: Chalish to Hindung (Gomba Danda) 2402m/7900Ft. 4 -5 hrs
After breakfast trek to Hindung danda Is a Tamang village of around 550 inhabitants. Crystals and rubies are harvested in areas to the north and yarsagumba is hunted also, in the surrounding highlands. Overnight at Tent.

Day 09: Hindung Danda to Thulo Dhunga 3337m/10975 Ft. 4-5 hrs
After breakfast trek to Thulo Dhunga. Is a camp site with views of waterfalls tumbling down across the valley. Flora and fauna abound in the Ganesh Himal region. Wildlife includes musk deer, Jharal a type of goat, wild boar, Langur, Leopard, pheasant and partridge. Vegetation includes bamboo, rhododendron and juniper among abundant wildflowers. Overnight at Tent.

Day 10: Thulo Dhunga to Base Camp (Nojet Kharka) 3691m12140Ft. 6 hrs
After breakfast trek to Base camp. The trail continues steeply with occasional jaw-dropping views of the snowy peaks. Continue through seasonal grazing areas to eventually drop into an immense green meadow and splendid camp site known as Nojet Kharka. Overnight at Tent.

Day 11: Discovery Day
A climb to the ridge to the northeast, Dobra Danda, is rewarded with a supreme viewpoint of towering Ganesh Himal. The mesmerizing sight is unforgettable. Two small lakes shimmer below at the foot of the Himalaya. Kalo Kunda (black lake) has waters that mirror the awe- inspiring surroundings and the smaller Seto Kunda (white lake) has a seasonal pasture nearby. These lakes are said to have mystical powers that will bless visitors but anybody who misbehaves will be punished with poor weather and difficult travels.

Day 12: Return from Base Camp to Hindung (Gomba Danda) 2402m7900Ft. 7-8 hrs
After breakfast Trek to Hindung (Gomba Danda) will be almost the same way back you have done way up however its stunning mountain views, ' surrounding landscape of mother nature and jungle down hill walking makes you full of fun walking of the day. Overnight at Tent.


Day 13: Hindung - Tatopani - Kapur Gaon 1500m/4950Ft. 5-6 hrs
After breakfast trek to Tatopani (Hot Spring) River south to a built up riverside hot springs with a bathing pool and 3 taps. Relax and refresh the body, mind and spirit. The trail onward follows stone steps built by Kadoorie Agri Aid Association and British Gurkhas of Nepal. Both organizations are active in this area and responsible for building many water taps, bridges and improved trails. Pass through Tir on the way to welcoming Racyat and Kapur villages. Overnight at Tent.

Day 14: Kapur Gaon) to Khading Gaon 2025m/6660Ft. 4-5 hrs
After breakfast, Pass through Lapchyat gaon which is a charming Gurung village with nearly 30 homes. Cross the Lapa Khola on a box bridge and ascend along a trail surrounded by fields to the walled compound of a newly built hospital of the large town of Lapa gaon with over 400 homes. Above Lapa gaon is Khading the largest Gurung village of the area. The residents have a welcoming spirit, and the people are enthusiastic to perform cultural dances with traditional music. Overnight at Tent.

Day 15: Khading Gaon to Magne Goth 2950m/9735Ft. 4 hrs
After breakfast trek to Magne Goath. Steeply up the hill to the west in a tall, blue pine forest with rambling rhododendron is Magne Goth, and nearby is a large boulder, location of ruby extraction. Overnight at Tent.

Day 16: Magne Goth – Lapu Danda 1250m/4125Ft. 5-6 hrs
After breakfast trek to Lapu Danda. We enter Gorkha District on the descent to cross the Chote Khola before ascending through lush forest and descending into a valley with excellent panoramas including Manaslu, soaring in the western horizon. Pass through the scenic villages of Dhonjet, Kartunje and Manbu and re-enter Dhading District to reach the magnificently located Laphu Danda, chiefly a Brahmin village with a large school in an area with luxuriant vegetation, surrounded by bountiful fields. Take in views of snow-clad Himalchuli and Shringi peaks with a section of the Ganesh Range. Overnight at Tent.

Day 17: Lapu Danda – Ganga Jamuna 950m/3135Ft. 5-6 hrs
After breakfast trek t Ganga Jamna, the path climbs through fertile fields of Baseri as it ascends to Dandagaon, with excellent views of Manaslu and more. Continue gradually to the glorious twin waterfalls of Ganga Jamuna. Overnight at Tent.

Day 18: Ganga Jamuna - Tripura Sundari 850m/2805Ft. 5-6 hrs
After breakfast trek to tripura Sundari.This day will be quite easy walking day passing most of the Bhramin people's villages, paddy terraces and low land terrain views of the surroundings. Local culture, little bit of Mt. Manaslu ranges mountain views as well as Akhu khola river views will lure the trekkers. Overnight at Tent.


Day 19: Tripura Sundari - to Kathmandu 1310m/4323Ft. 6-7 hrs drive
After breakfast drive to Kathmandu.O/N at Hotel.

Day 20: Departure
After breakfast transfer to Airport for onward destination.
Cost includes:
• International Airport Pick Up and Drop Service.
• Hotels in Kathmandu.
• Full day Kathmandu valley sightseeing with tour guide and private car.
• Sightseeing entrance fees.
• Bus Ticket to Syabru Bensi and Tripura sundari to Kathmandu.
• Three meals a Day (Breakfast, Lunch and Dinner along the trek with Tea or Coffee).
• Tented camp accommodation during trekking.
• An Experience Guide and Helper (carry luggage 2 trekkers 1 helper and including their salary, equipment, insurance, lodging and fooding)
• Equipment; Down Jacket, Sleeping Bags, Rain Coat (after trek return).
• All Legal Documents.

Cost does not includes:
• Extra night accommodation in Kathmandu.
• Travel insurance.
• Cold drinks such as; Coke, Mineral Water, Beer etc.
• Personal expenses (laundry, bar bill, telephone, extra helper, battery charge shower and boiled water).
• Some donation to Cultural Group.
• Tips for Guide and Helpers.