Simikot Limi Valley Trekking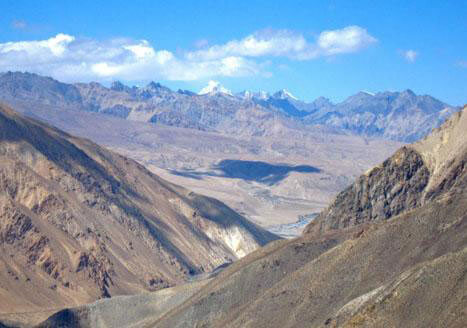 Simikot Limi valley Treks is North West corner of Nepal , Limi valley is the only one west east isolated valley extending from one Border Himalayan pass (Hilsa) to another pass (Chang La) between Nepal and Tibet. The longest river of Nepal , Humla Karnali enters Nepal border at Hilsa where the valley starts from West Side . Limi valley is very beautiful, photogenic, wide and wonderful. Mound Gyuokharka (5000m) provides the wonderful views of the Nepalese Himalayas like Saipal (7031m), Byas Rishi, Api, Kanjirowa, Kanti, Gorakh Himalayas and Tibetan Himalayas like Mt. Kailash and Gorlamdanda and tranquil Mansarovar lake, hundreds of mounds like breast, meandering rivers and rivulets. This region is famous for rare flora and fauna. It can be seen the marmot, wolf, wild yak, blue sheep, wild horse (kyang), barking deer, musk deer, hare, Himalayan black bear and occasionally the snow leopard in this exotic region. Indigenous Tibetan cultured people are settled there and they have their particular Tibetan language, tradition and culture. Very big and beautiful villages like Haljee and Gombayok are located in the wide patches of Limi Khola. The source of income of the people is only the livestock and occasionally little a bit trade. Some people make and sell the wooden pots like tea bowl, yogurt pot, jewelry box etc. Because of the poor economic condition, there is the Polyandry marriage system in the society. Grazing cattle in the pasturelands adds the more beauty in the valley and this valley is newly opened for the trekkers. To protect the fragile ecosystem of the high country, the government of Nepal issues the limited number of permits with special fee for that hidden valley.


Day 01: Arrive Kathmandu, upon arrival transfer to hotel, stay overnight in Kathmandu Hotel

Day 02: Full day sightseeing in Kathmandu, Obtain trekking permit and sort our equipment-Stay in Hotel in Kathmandu

Day 03: In Kathmandu, final preparation, trek briefing, Stay in Hotel in Kathmandu

Day 04: After breakfast transfer to Domestic Airpiort to fly Nepalgunju, transfer to Hotel. Overnight in Nepalgunj. The flight duration is about one hour. Nepalgunj is located in the far south west of Nepal. It is a busy crowded city, which lies close to the Indian border.

Day 05: After breakfast, early morning fly to Simikot (2856m) then trek to Dharapuri (2400m) - camp
Fly by fixed winged Charter flight to Simikot, the headquarters of Nepal's most remote district, Humla. After meeting our crew, set out for trek, climbing up from the airstrip on a rocky trail past fields of barley and wheat, ascend a forested ridge above the town of Simikot, before making a long steep decent past Dandaphoya. The trail is then fairly level, through walnut and apricot trees, until you come to the scattered village of Dhara Pokhari which is divided by the Yakba Khola. Overnight at Camp.


Day 06: Yakba Khola to Salli Khola (2400m) - Camp
Leave campsite and then cross a long screed slope and follow the river to a waterfall near the shepherds' camp at Chachera. The trail then climbs over a ridge and bypass the village of Kermi before entering a big valley with walled fields of potato and buckwheat. After walking through a sparse pine forest you will descend from the ridge to the Salli Khola. Overnight at Camp.

Day 07: Salli Khola to Muchu (2920m) - Camp
Cross the river and climb over a rocky ridge before descending to the gray waters of the Humla Karnali. After crossing another ridge there comes a sandy meadow where goat herders often camp by the river. Beyond the meadow the valley narrows and cross several more ridges, passing the villages of Yalbang and Yangar. The trail then winds its way precariously above the river before you cross a suspension bridge to the village of Muchu. Overnight at Camp.


Day 08: Muchu to Sipsip (4330m) - camp
From Muchu, the trail follows over a ridge to the Tumkot Khola and then along the rocky streambed for a short distance before beginning a steep climb through a rock-filled gully. Pass through Palbang and its bright yellow mustard fields to the small settlement of Yari and beyond here the route climbs up the valley towards a pass, the Nara Lagna. Camp below the pass in a meadow known as Sipsip. Overnight at Camp.


Day 09: Sip Sip to over Nara la pass (4325m) - camp at Hilsa -Camp
A steep ascent will take you to 4580m. and the Nara La. From the top of the pass it is a steep and rough descent to the Karnali river. A short distance from the river, you will see stone pillars that mark the boundary between Nepal and China. Overnight at Camp.



Day 10: Nara la pass to Manepema (3990m) - camp
There is check post at Hilsa, follow the trail that meet the main trail from Sher to the limi valley. You head north east looking down to the Humla Karnali river, the trail here is ups and downs, enjoy the stunning views of Himalaya and good chance to see exotic blue sheep and snow leopards. Manepeme is named after huge stone that is carved with a mantra "Om Mane Padme ome". Overnight at Camp.


Day 11: Manepema to Til Chu(4200m) - camp
After breakfast the trail weaves in and out of ravines on the side of the valley, climbing gradually towards the foot of the rock place. The trail descends to a tiny stream then continues down and cross a slope. Climb over two rocky ridges and make a short descend to two chortens that marks the end of ridge above Til Chu. You get to see the first view of Til Gompa across the valley and the barley fields of the Till village. You descend all the way down to a campsite at its confluence with Takchi chu and Til chu. Overnight at Camp.


Day 12: Til Chu to Limi (4600m) - camp
Follow the river of Takchi Chu crossing it on a wooden bridge. After a short walk pass the barley field into Halji, 3670 m. You can bypass the village staying near the river in a pleasant plantation of willow trees. Visit Rijziling Gompa in the heart of the Halji village. The Gompa is dated back to 1000 years and 30 monks are serving there. People depend on farming barley and trade to the boarder at Tibet. Trek further to a small village Sunkhani and reach to a beautiful village Limi. Overnight at Camp.


Day 13: Limi to Yang (4400m) - camp
The valley becomes rockier as a trail makes gradual ups and downs. People in Limi make well finished wooded bowls from pine, birch and maple trees that grow on the south side of the river. Pass the village and trek uphill you come to camp site where you see Hot spring, enjoy bathing at hot spring. Overnight at Camp.


Day 14: Rest day – exploration day - camp

Day 15: Yang to Talung (4370m) - camp
A short climb takes you over a rocky ridge. Talung is a village that was abandoned many years ago, parts of remnants are still there. There is little hot spring spring on the way. After the lake you ascent about 1 hour to our camp site at Talung. Overnight at Camp.


Day 16: Talung, camp at Dhingba (3610) - camp
Talung to Dhingba is strnous, longday crossing 3 pass, Pali La, Kuki la and Sechi la (4530m). Arriving at Dhingba you feel relieved. Overnight at Camp.

Day 17: Dhingba to Yakba (3060m) - camp
Easy and short day to reach Yakba, it is a pleasant day. Overnight at Camp.


Day 18: Yakba to Simikot (2950m) - camp/lodge
Trek to Simikot for overnight, last day with staffs, fare well and good night. Overnight at Lodge


Day 19: Fly to Nepalunj and connect flight to Kathmandu. Overnight at Hotel.

Day 20: In Kathmandu - free day to explore Kathmandu own. Hotel

Day 21: Transfer to airport, depart Kathmandu.
Cost includes:
# All meals and full camping trek arrangement with all camping gears
# Cooking and eating utensils.
# Service of trek guide, cook, kitchen and sherpa assistants.
# Porters to carry personal baggage, food and camping equipment.
# Warm clothing, shoes, blankets and dark goggles for high altitude porters.
# Accident insurance for staffs and porters.
# Domestic Airfare according to programme
# National park/conservation entry permit as per programme
# Arrival and departure transfers.
# Local / Public transport as shown in the programme
# Hotel Accommodation on BB as per programme

Cost does not include:
# Personal clothing and sleeping bag
# Personal accident and health insurance
# Emergency evacuation and oxygen cost, and medical-box
# Alcoholic and bottled beverage, laundry, and tips
# Sightseeing tours and meals in Kathmandu
# Any other services and expenses that are not specifically mentioned in the programme.
# Expenses due to flight delay, sickness other contingencies