Panch Pokhari Trekking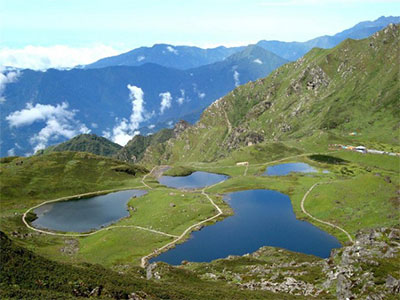 Panch Pokhari trekking is non tourist trekking trail in Nepal. Panch pokhari trekking offers beautiful Himalayan view including the Gauri shanker, Dorje Lakpa, Langtang Himalaya range, Jugal Himalayan range, Rolwaling Himalayan range, Tibetan Himalayan range etc and pristine nature with district culture . Panch pokhari mean 5 holy ponds and Hindus religiously respect the place. As panch pokhari trekking trail doesn't have tea house facilities entire this trekking route. Panch pokhari trekking begins from Chautara after drive 5-6 hours from kathmandu. we observe the different ways of life, culture and come in contact with the people in the small village, passing through the dense forestations and meadows. The top of Panch Pokhari (5 lakes) offers an excellent view of Gauri shanker , Dojre lakpa, Langtang Himalaya range, Jugal Himal range, Rolwaling range, etc.



Itinerary
Day 01: Arrive in Kathmandu (1400m) transfer hotel. Short breefing about the programme. Overnight at hotel.

Day 02: Free day in Kathmandu (Sightseeing around Kathmandu valley, Pashupatinath, Soyambhunath and Kathmandu Durbar Square). And Trekking permit arrangement. Overnight at hotel.

Day 03: Kathmandu to Chautara [1450m]
After breakfast drive to the little village of Chautara. While small, Chautara is the headquarter of Sindupalchok district and we will camp here tonight, ready to commence walking tomorrow. From our camp site you can relax and enjoy the stunning mountain views, or if you like to explore, you can gain some insight into the culture and daily life of the village. Overnight at camp.

Day 04: Chautara to Sano Okhareni [1965m]
After breakfast we have about 5 hours of gradual uphill walking to reach Sano Okhareni. Our path passes through small villages where we can see how the diverse ethnic groups live side by side. We camp at Sano Okhareni near a pine forest and with great views to the mountains. Overnight at camp.

Day 05: Sano Okhareni to Kami Kharka [2810m]
After breakfast we start gently with about 1 hour of gradual uphill walking to Thulo Okhareni. From here we get into the steeper climb with about 4 hours of walking through stunning, dense Rhododendron and pine forest. If we are lucky and observant, we might spot some wild animals such as mountain deer or langur monkeys and Nepali birdlife like the danfe. Tonight we camp on a summer pasture ground for nomadic cattle herders (kharka). Overnight at camp.

Day 06: Kami Kharka to Pauwa Bas [3000m]
After breakfast trek start nice and gentle, being fairly level ('Looks Terai') and we can enjoy our forest trails and wildlife spotting. We have about 5 to 6 hours through the lush forest of rhododendron, oak, pine and juniper and we can see some nomad's houses for cattle on the way. In Pauwa Bas there is a shelter for pilgrims to Panch Pokhari. Overnight at camp.

Day 07: Pauwa Bas to Hille Bhanjyang [3400m]
After breakfast, we have a steep uphill for about 3 hours, taking our time. We get our breath back on the steep downhill though as we descend for 1 ½ hours through the forest. We have some great mountain views on our way down into our camp at Hille Bhanjyang. Overnight at camp.

Day 08: Hille Bhanjyang to Narsim Pati [3700m]
After breakfast we have only about 4 hours of walking. So we take it easy on the steep uphill section to start the day, taking about an hour. Then we enjoy the gradual descent of about 3 hours through rocky hills and rhododendron forest into camp at Narsim Pati. There is a small rest house for pilgrims on their way to the holy site of Panch Pokhari and we have great mountain views from our campsite. Overnight at camp.

Day 09: Narsim Pati to Panch Pokhari [4100m]
After breakfast we start trek to Panch Pokharai. We have about 3 hours of gradual ascent through rocky hills to reach our destination of Panch Pokhari (panch means 'five' and pokhari means 'lake'). This stunning setting is a secluded pilgrimage site where the Janaipurnima festival is held in August. Many Hindu and Buddhist pilgrims visit this site each year and we can see two pilgrim houses and the temple dedicated to Lord Shiva. Overnight at camp.

Day 10: Panch Pokhari top, trek to Tupi Danda [2320m]
This morning we have an early start to catch a stunning sunrise over the mountains. We have about 1 ½ hours uphill to see the beautiful sight of the sun rising over the Himalayas and our panoramic view includes Mt.Dorje Lakpa, Jugal Himal Range, Rolwaling Range and Langtang Range. After this incredible start to the morning, we head back down to Panch Pokhari to pack up and start heading for home. We have about six hours down some steep trails through the rhododendron forest to Tupi Danda (danda means 'point') and our camp. Overnight at camp.

Day 11: Tupi Danda to Dhap [1200m]
After breakfast we have to walk 5 hours.Our way through terraced fields to the beautiful village of Dhap. Dhap is home to Tamang families and is gives us a great chance to gain some insight into the lives, culture and traditional architecture of Tamang villages.


Day 12: Dhap to Melamchi [800m]
After breakfast , we have about 6 hours of walking. We walk down through terraced fields, along the Indrawati River. We pass through stunning villages and also see a hydro electricity project on the way to Tipini and our re-introduction to a road! Melamchi Pul Bazaar which lies at the bank of Melamchi Khola (stream) and Indrawati River is comparatively a big town for this area. There are some lodges, tea shops, government offices, schools, colleges, post office and army police camp. We will camp by the riverside. Overnight at camp.

Day 13: Melamchi to Kathmandu
After breakfast, Drive back on four wheels and enjoy our five hour scenic drive back to Kathmandu.

Day 14: Departure
After breakfast drive to Airport for your onward destination.

Cost includes:
All necessary transportation by private vehicle.

Trekking permit

Trekking guide, Porters, cook

Necessary porters

Necessary Kitchen helpers

Necessary sherpas

All meals three times a day (breakfast, lunch, dinner, juice, tea, coffee, hot chocolate, fruits etc.)

Necessary Camping equipment such as tents, kitchen tent, dining tent, toilet tent, mattresses, down sleeping bag, down jacket, cooking utensils, fuel etc.

Camping Charges

Insurance and equipments for trekking staff

First Aid kit

Rescue assistance

Four nights hotel accommodation in Kathmandu on breakfast basis

City sightseeing in and around Kathmandu valley with tour guide

Entry fees while sightseeing in and around Kathmandu valley
Cost does not include:
Nepal entry Visa fee

International airfare to and from Kathmandu

Excess baggage charges

Extra night accommodation in Kathmandu because of early arrival, late departure, early return from mountain(due to any reason) than the listed itinerary

Lunch and Dinner in Kathmandu (and also in the case of early return from mountain than the listed itinerary)

Travel and rescue insurance

Personal expenses (phone calls, laundry, bar bills, battery recharge, extra porters, bottle or boiled water, shower etc)

Tips for guides and porters