Marshyangdi River Rafting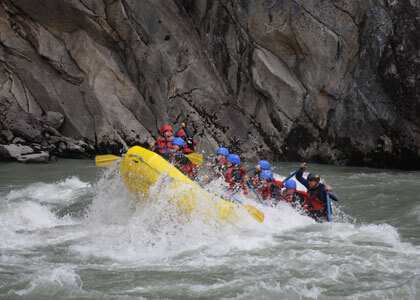 If you are seek for adventure rafting trip then the Marshyangdi River Rafting is your right choice. You'll find it on this trip with one day of easy trekking and five days of intense rafting. Only recently opened for commercial rafting (many rapids have not been named yet), the Marshyangdi is one of the next generations of rivers in Nepal, steeper and with a much more continuous stretch of rapids.

During the Marshyangdi River Rafting scenery is magnificent with every bend of the river opening up fresh vistas of some of the world's highest mountains, but these are behind-as someone said "great views but you need rear view mirrors"

Seasoned rafters from around the globe consider the Marsyangdi one of the best on is Marshyangdi River Rafting in the world. Encounters with rapids of Class IV to Class V make this run an exciting and thrills on this river, there are superb views of the Manaslu and Annapurna massifs throughout the trip.

Marshyangdi River Rafting is one of those trips which involve a day's trek. Rafters are taken on a wonderful adventure, meeting local people in their villages followed by a rafting trip that offers continuous with bouncing white water rapids. The journey starts with an 8- hour drive to Khudi where the short trek begins. Camp is set up at Bhulbhule wich at sunest look spectacular. Another short hike the next morning, leads to the put-in point at Ngadi. The river trip begins after lunch and immediately repids appear. Each day brings fresh challenges as the river gets bigger and bouncier, crashing through canons surrounded by lush green jungle. This four-day spectacular run ends with a scenic float which is a good respite from the bumpy rid downstream.



Day Activities
Day 01: Drive 8 hours to Besisahar from Kathmandu and then to Khudi to set up Camp
Day 02: Start from Khudi to Ngadi then back to Ngadi by raft for your night camp
Day 03: Start adventure-rafting trip from Khudi and raft up to the sandy beach below Besisahar
Day 04: As done before and camp in Bhotewodar
Day 05: Bhotewodar to Kathmandu

Cost Include:
* All transportation from and to the Rafting Points.
* All Rafting Equipments.
* All Safety Equipments (Life jacket and helmet while on rafting).
* Water proof Bag for your valuable things.
* All meal during the Rafting Period (3 meals a day, Breakfast, Lunch and Dinner with Tea, Coffee and Hot Water).
* 1 night accommodation at tented camp.
* Comprehensive medical kit.
* Full rafting staff (crew) including guides, helper, and cook and as per requirements.
* Tourist service charge, Vat.
* Office Service charge.
* All taxes.


Cost Doesn't include:
* Any meals in Kathmandu other than breakfast.
* Travel insurance.
* International air fare to and from Nepal.
* Nepal Tourist Visa fees.
* Items and expenses of personal nature.
* Transportation to your next destination.
* Any kind of alcoholic drinks, hot shower, cold drinks, snacks, laundry, phone call, internet.
* Personal Equipments
* Tips.

Please bring: -
T-shirt.
swim wear for on the river.
Warm clothing for the evenings including a fleece or a pullover.
Sunscreen and lip protector.
Sunglasses (with retaining device) and/or a cap.
Towel and Toiletries (environmentally friendly is best).
Personal medication.
Flashlight.
Footwear.