Ghorepani Poon hill Trek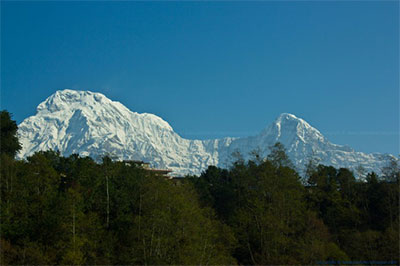 The trek to Ghorepani - Poon Hill (Pun Hill) which is located in Annapurna region, is truly called as all the best of the trekking in Nepal.

The trek offers the spectacular mountain scenery along with charming villages inhabited particularly by the Gurungs & Magars, solid rhododendron forests full of birds and deep sub-tropical valleys, all set below the Annapurnas with the picturesque peak of Machhapuchhare (Fishtail Peak) dominating the skyline.

One of the important highlight of this trip is to make a climb on Poon Hill, possibly the most spectacular mountain escapes on Earth. When sun rises, it touches the snow-capped summits the Himalayan giants, Dhaulagiri (8,167m) and Annapurna (8,091m) along with a maze of other peaks, there gradually appear, just like magic that your eye could not believe.




Day 01: Arrival and transfer to Hotel O/N at Hotel.

Day 02: Full day sight seeing Pashupati temple /Bouddhanath stupa and Swoyambhu nath temple O/N at Hotel .

Day 03: Kathmandu- Pokhara Fly to Pokhara [823m/2,700ft] and Trek to Tikhedhunga [2050 m/6725 ft]: 30 min flight and 6 hrs trek
At early morning, we fly for Pokhara. It will be better to catch right side of the airplane for the best views of Himalayas. Upon arrival in Pokhara, the lake city offers magnificent views of Dhaulagiri, Manaslu, Machhapuchhare, five peaks of Annapurna and others. Numerous lakes of Pokhara, known as 'Tal' in Nepali, offer fishing, boating and swimming facilities. Upon few moments rest in Pokhara, we drive to Naya Pul and start the trek. We pass through sub tropical valley forests, sometimes on the carved trail on the side of the cliff. After lunch, we cross the Modi Khola (river) via a suspension bridge to the village of Tikhedhunga. We will arrive late afternoon. O/N at tea house Lodge.

Day 04: Tikhedhunga - Ghorepani [2750 m/ 9020 ft]: 4 - 5 hrs trek
We make our ascent to the Ghorepani village. The name Ghorepani in Nepali means horse-water owing to its role as an important campsite for traders before it became a trekker's stop. Ghorepani is an interesting place with small shops and stalls for selling local products and craft. The town has two parts: one in a saddle and the other a few hundred feet lower. We stop at the higher part of the Ghorepani village that offers panoramic views of the surrounding mountains including Annapurna South and Nilgiri mountains. Since Ghorepani lies quite higher than our previous stop, we begin to feel the chilly weather especially in the evenings. Overnight at Ghorepani tea house lodge..

Day05: Ghorepani-PoonHill-Tadapani[2700m/8,860ft]:06hrs
Today will be a special day because we conquer Poon Hill- an icon of Annapurna region. To catch the magnificent splendour of sunrise over the Himalayas, we make an early morning climb along the steep trail to the view point of Poon Hill (3200mtrs). Poon Hill (3,210m/10,529ft) is a great viewpoint from where we will be able to enjoy wonderful panoramic views of the Mustang part and Pokhara valleys including the closest views of more than 20 highest mountains including the close-up views of the Annapurna and Dhaulagiri ranges. The snowy peaks of the high mountains loom above and around us glowing in the morning light. After taking photos and having some coffee or tea or hot chocolate, we return back to Gorepani. Upon breakfast, we head east and climb a nearby ridge. We descend through rhododendron forest, pass by spectacular waterfalls along the way and reach Tadapani for overnight at Tea house lodge.

Day06: Tadapani-Ghandruk[1940m/6360ft]:4hrs
From Tadapani, we make a steep descent through the dense and dark forest. This part of the trek will be through a thick forest of old rhododendron trees. When the rhododendron trees are in bloom, these forests actually turn into gardens of dazzlingly beautiful flowers, mostly red, when seen from the air or from far. By afternoon, depending upon the season of travel, we will be pleasantly surprised by the sight of some cherry blossoms in bloom on the slopes on the other side of the ravine. After trekking some more minutes, we enter the village of Ghandruk, a slope settlement with stone houses mostly inhabited by the Gurung people. Along with enjoying the stunningly close-up towering views of Fishtail, Annaurna South, and Himal chuli mountains, we also acquaint ourselves with the simple but rich cultural traditions of the Gurung people at the Gurung Museum in Ghandruk O/N at Tea house Lodge.

Day 07: Ghandruk –Nayapool- Pokhara: 4 hrs trek and 1and half hrs drive
Today, we trek from Ghandruk to Naya Pul then drive back to Pokhara. The trek will be downhill all the way to Birethanti. We step onto a staircase paved with stone slabs, curving in and out of the village and then terraced farms. It keeps on going down almost without breaks from Ghandruk until Modi Khola river valley. By the time, we arrive at Birethanti, some of us would feel like having made a downhill marathon. But our marathon is not over yet. From Birethanti, a half-an-hour's walk takes us into Naya Pul. The journey on foot comes to an end at Nayapul. Then, we drive from Nayapul to Pokhara O/N at Hotel.

Day 08 : Fly to Kathmandu and transfer to Hotel

Day 09: Departure transfer to airport.

Cost includes:
• All necessary transportation private vehicle except to and from Pokhara
• 03 night twin/double shearing accommodation in Kathmandu on BB
• 02 night twin/double shearing accommodation in Pokhara on BB
• Sightseeing tours in Kathmandu and in Pokhara with all necessary entrance fee and private vehicle.
• Kathmandu to Pokhara to Kathmandu flight ticket.
• Annapura Conservation Area Permit and Trekkers' Information Management System( TIMS card)
• Guide, English speaking, licensed insured, registered, salary, food and accommodation paid. And porter on request.
• Accommodation in the mountain during the trekking
• Three meals a day; breakfast, Lunch and Dinner and tea/coffee during the trekking.
• First add kid box

Cost does not includes:
• International flight ticket and departure tax,
• Diner and lunch in Kathmandu and in Pokhara,
• Bar and beverage bill; bottled water, personal expenses, personal cloths, medical and helth insurance, personal insurance for helicopter,
• Tips to the trekking crews and drive etc.