Cho Oyu Expedition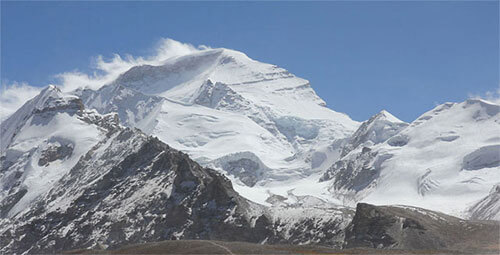 Cho Oyu (8201m) is one of the three eight thousand meter peaks in the Khumbu Himal, the others being Mt Everest and Lhotse.Cho Oyu mountaineering expedition thus partakes of the scenic glories and adventure that other mountaineering expeditions in Nepal, especially in Khumbu bring you. The mountain is approached from Nepal side after an exciting and adventure trek through Everest region. You can also choose easier, more comfortable, and quicker approach to the mountain via Tibet. In this case, we drive through Kathmandu to Tibet via Kodari Highway and drive to the road-head, and reach the base of the mountain in a day's trek. But the approach to the mountain through Nepali side includes remarkable trek in the Everest region through Lukla and this also helps in acclimatization.

The Khumbu Himal is a section of the Mahalangur Himalayan range, the world's most rugged, most spectacular Himalayan range with the world's four tallest peaks (Mt Makalu is the easternmost 8 thusander in this range). Not surprisingly, Khumbu region, also known as the Everest region, is the Mecca for the lovers of adventure treks, and mountaineering expeditions. In Everest region alone, the skyline is an unusual concentration of three dozen 6,000 meters, nearly two dozen 7,000 meters, plus the three eight thousanders along with glaciers, glacier lakes, high passes, gorges, ravines and waterfalls emanating from these numerous mountains. Therefore, a climbing expedition in Everest region brings you a superb combination of adventure trekking and mountaineering with undreamt of high Himalayan panorama.

Technically, Cho Oyu is sometimes regarded as the easiest 8000 meter peak to climb, thanks to its gentle north-western face. However climbers need to be physically fit and have enough mountaineering training. Magnificent Himalayan Treks & Expedition gives utmost attention to the safety of the climbers, with top-class gears and experienced Sherpa guides. While Cho Oyu ascent is a glory in itself, you can use the experience to attempt the other peaks over 8000 peaks.


Itinerary
Day 01 : Arrive Kathmandu. Meet & transfer to Hotel. O/N Hotel.
Day 02 : Free day in Kathmandu for preparation. O/N Hotel.
Day 03 : Free day in Kathmandu for preparation. O/N Hotel.
Day 04 : Drive Kathmandu / Zhangmu. O/N Hotel.
Day 05 : Drive to Nyalam. O/N Lodge.
Day 06 : Rest day at Nyalam for acclimatization. O/N Lodge.
Day 07 : Drive to Tingri. O/N Lodge.
Day 08 : Rest day at Tingri for acclimatization. O/N Lodge.
Day 09 : Drive to Everest Base Camp. O/N Camp.
Day 10 : At Cho Oyu Base Camp. O/N Camp.
Day 11 : At Cho Oyu Base Camp. O/N Camp.
Day 12 : At Cho Oyu Base Camp. O/N Camp.
Day 13 : Trek to Advanced Base Camp. O/N Camp.
Day 14 : At Advance Base Camp. O/N Camp.
Day 15 to Day 39:: Climbing Period.
Day 40 : Return to Advance Base Camp. O/N Camp.
Day 41 : Return to Base Camp. O/N Camp.
Day 42 : Cleaning up Base Camp. O/N Camp.
Day 43 : Base Camp to Zhangmu. O/N Lodge.
Day 44 : Drive back Zangmu to Kathmandu. O/N Hotel.
Day 45 : Free day in Kathmandu for independent activities. O/N Hotel.
Day 46 : Sight seeing & farewell Diner
Day 48 : Return in your Hometown
Cost Included:
All ground transfers as per our itinerary.
Four star Hotel in Kathmandu (twin sharing, including breakfast & all govt. Tax and VAT)
Guided sightseeing around world heritage sites of Kathmandu. (Includes all applicable entrance fees.)
Welcome dinner with Live Nepalese Program
All costumes Clearance Fees for your gears.
Mount. Cho – Oyu Expedition Royalty.
Liaison Officer fee (Including his all expenses, Foods insurance and wages).
All necessary Entrance fee/permits.
Tow vastly experienced Climbing Sherpa with their equipment and allowance.
Transportation in Tibet side by Private Land Cruisers.
Transportation of all of members gears and our equipment, foods to the Cho-Oyu Higher Base camp.
Full Logistic support for the Expedition. All the Camping & kitchen equipment.
Such as Two Man Tent, Toilet Tent, Dinning Tent, Mattresses, Tables, Chairs, Hot water bag, Pillows, Inner Sheet and etc.
Two Trekking sherpa, One Trekking Sirdar, One high Altitude Cook, Two Kitchen Helpers. High Altitude Porters and their daily wages.
Three times meal a day till reaching Base Camp and after returning from Case Camp food will be prepared by our very professional kitchen crew ( Includes the fuel expenses0
Medical treatment (it necessary) for our crew.
Cost Excluded
All international Airfares / Airport Taxes
Expenses of personal nature such as bottled drinks, mineral water, tips and etc.
Rescue and evacuation – if necessary
Personal medical and travel insurance
Deposits for using communication Sets (Walkie / Talkies and other Sat phones)
All arrangements above Cho – Oyu Higher Base camp (5600m.) (Climbing Tents / High altitude foods etc)
Personal Equipment
# Summit shoe 1
# Down suits (dangri) 1
# Walking shoe 1
# Crampon 1
# Summit Glove (Mitten) 1
# Normal gloves 2
# Summit Snow goggles 1
# Glacier glasses 1
# Ice axe 1
# Harness 1
# Jumer 1
# Carabiners (normal) 3
# Sleeping bag (-40C) 1
# Down filled Mattress 1
# Summit socks 2
# Normal socks 3
# Climbing bag (40 ltr) 1
# Helmet 1
# Down jacket 1
# Down trouser 1
# 8 finger / descender 1
# Headlamp (Icon or Spot) 1
# Gore-tex jacket 1
# Gore-tex trouser 1
# Fleece jacket 1
# Fleece trouser 1
# Fleece liner gloves 3
# Screw Gate Carabiner 1
# Balaclava (windstopper) 1
# Thermos bottle 1
# Base layer (woolen) 2 (set)
# Water bottle normal 1
Climbing Gears
# Ice crews
# Fix rope
# snow bars
# EPI gas
# Rock piton
# Carabiners (normal)
# High tent
# Summit rope
# Cooking pot
# Snow shovel
# Ice hammer / adge (set)
# Member high food
# Oxygen
# Mask & regulator
# Quick Draws